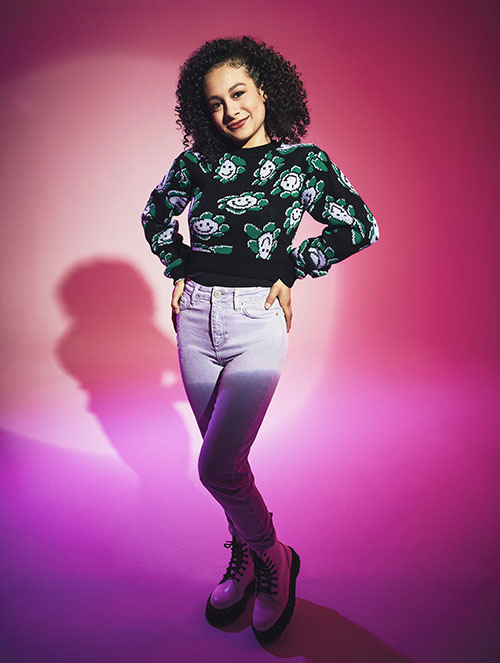 Last month, Disney released a new show, The Villains of Valley View, starring Wellington's own Kayden Muller-Janssen as Hartley, the best friend and next-door neighbor of teen supervillain Amy.
The show debuted on the Disney Channel and is now also streaming on Disney+.
As Muller-Janssen's Disney debut, and breakout role, this couldn't be described as anything other than a dream come true.
"I'm still processing it," she said. "It has been my dream since I was a kid — and having the opportunity to work on this show and work with such an established cast… it was really intimidating at first."
But, Muller-Janssen said, everyone has been friendly, supportive and helpful — and she has made some lasting friendships along the way.
Shooting the first season flew by, she added, and now she gets to see herself on screen.
"I worked so hard for six years to get here," she said. "It's very fulfilling. My heart is full right now."
Muller-Janssen shares the stage with cast members Isabella Pappas, Malachi Barton, Reed Horstmann, Lucy Davis, James Patrick Stuart, Patricia Belcher and many more in this family-friendly show about supervillains who have to blend in while living in a small town in Texas.
Hartley reminds Muller-Janssen of a slightly younger version of herself.
"This big, bubbly brightness to really counter all the crazy evilness that's going on with the family. I think I really took that when it came to playing Hartley," she said. "She's a really interesting character because she's naïve, but at the same time, she's not."
As the season progresses, Muller-Janssen said, Hartley grows and evolves.
"Everybody's really going to fall in love with her character, just like I did," Muller-Janssen said.
If the two met in real life, they'd likely become friends, she said, because Hartley is a true friend.
Her favorite villain on the show would be Amy's brother Colby, played by Barton.
If she could have one superpower of her own, it would be telekinesis.
Growing up, Wizards of Waverly Place and Hannah Montana were some of Muller-Janssen's favorite Disney shows.
"They just hit different," she said. "I don't know what it is about them. They were just great shows."
And now the talented actress from Wellington is making history as Hartley. At only 20 years old, she is well on her way to a thriving acting and singing career.
Muller-Janssen wears many hats. She's also a skilled equestrian and a talented singer-songwriter. Landing on the No. 1 spot on Radio Disney was her debut single "Kiss Kiss Baby," which also was a top 5 most-requested video on Music Choice, along with another of her songs, "Walk." Recently, Muller-Janssen released another single, "No Maybe."
Her album is coming out in October and will feature songs close to her heart.
"Some of the songs that are going to be there are songs that I've created over the years and that have a really close, personal meaning to me and a story behind them," she said. "I'm super excited for people to hear that."
During her break, Muller-Janssen is excited to be spending time with friends and family in Wellington, where she grew her roots.
"I'm happy to be coming back home, and I'm just happy that I got to have this opportunity," she said.
As a child, Muller-Janssen and her sister participated in sports like golf, tennis and soccer, but theater and performing is where she shined.
Through her time at an art school, Muller-Janssen had the opportunity to participate in a showcase camp in Los Angeles, where she worked on acting sessions with casting directors. "I ended up getting my agent, and that's kind of how it started off," she explained.
Muller-Janssen already showed an affinity for acting and singing, but it truly became a career at that point.
The majority of her schooling took place at #1 Education Place in Wellington, where Muller-Janssen was able to juggle her acting and singing commitments with her schoolwork. "I love that school," she said.
Muller-Janssen is known around Wellington's equestrian community as the daughter of internationally renowned dressage trainer Kerensa Muller and Dutch equestrian Olympian Sjef Janssen.
Episodes of The Villains of Valley View are available on Disney+ as well as www.disneynow.com.
To follow Muller-Janssen, find her on social media at www.instagram.com/kaydenmuller and www.twitter.com/kaydenmuller.