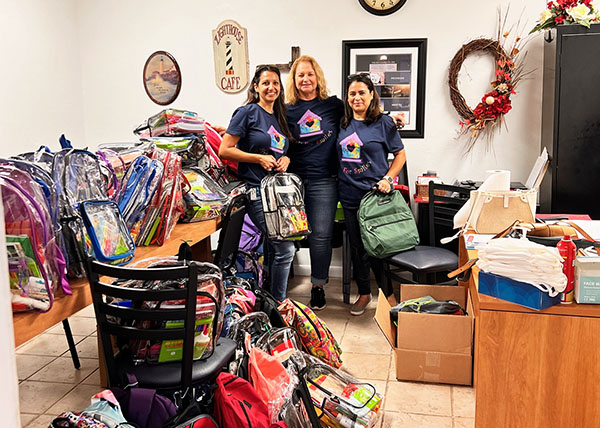 Arts for Smiles Inc. celebrated the success of its Back to School Supply Drive on Aug. 1, as the local nonprofit delivered more than 300 backpacks filled with school supplies to Palm Beach County families in need. The backpacks included notebooks, pencils, binders, crayons, markers, glue, rulers, folders and many other goodies for the children.
This is the second school year that Art for Smiles has held its "Back to School Supply Drive" summer campaign, with a tremendous outpouring of support from many Wellington and Royal Palm Beach businesses and private donors. Many local area residents also contributed through organic outreach programs, such as collection boxes distributed throughout neighborhoods and businesses in the western communities.
The Wellington-based nonprofit organization began as a grassroots effort with a mission to bring local artists and the community together to foster joy through art, culture and education directly to children facing adversity in Palm Beach County.
"We are so happy to be able to give the kids everything they will need for the year. It's important that they feel prepared to learn and not have to worry about having the right tools to help them be successful in class," Founder & Executive Director Carolina King said.
The backpacks were delivered to multiple groups, including Ella's Closet and the Lighthouse Café in Belle Glade, Inner City Innovators in West Palm Beach, and teachers at North Grade Elementary School and Palm Springs Middle School.
Now that this year's back-to-school campaign is complete, Arts for Smiles will start preparing for Wellington's Lakeside Market, where the organization will have a booth with art activities for kids, face painting, and sell art kits and receive donations for their mission most Fridays. Opening Day is Friday, Oct. 7.
To learn more about Arts for Smiles and to see how you can become a partner, sponsor or volunteer, visit www.artsforsmiles.org.