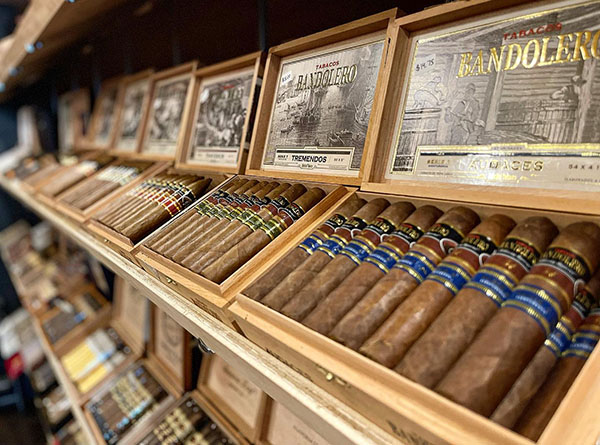 If you are a cigar lover, then you should certainly plan a visit to the newest cigar lounge serving central Palm Beach County. It's called the Stogies Cigar Lounge, and it is located at 8480 Okeechobee Blvd.
Stogies is more than just a venue to go to smoke a cigar. It provides a place to relax, mingle with fellow clients, enjoy a meal, and listen to jazz and blues music.
Four months ago, owner Rafael Morera, a longtime cigar smoker and aficionado, opened Stogies Cigar Lounge for business. Morera, who also runs a successful real estate business, has a strong passion for cigars and has enjoyed meeting many local residents who share a similar mindset.
"I have always loved smoking cigars," said Morera, a retired law enforcement officer from New Jersey. "I just wanted to create and cultivate a great atmosphere for cigar lovers."
Morera's goal was to create a classy and comfortable haven for fellow cigar lovers.
"Stogies Cigar Lounge provides you with the exclusivity of a private cigar club, with its impeccable attention to detail and chair-side services," Morera said. "We are raising the bar in your cigar lounge experience."
In addition to providing a venue to relax while enjoying your favorite cigar, Stogies has a wide selection of delicious food, which is prepared by Bambino's Meatballs, but only for special events. Right now, Stogies does not sell alcohol, but Morera is hoping that changes in the near future.
"Right now, we are a BYOB establishment," Morera said. "But I'm expecting my beer and wine license to get approved very soon."
According to Morera, a few of the nights each month have a theme.
"Gentlemen's Night is the first Tuesday of the month at Stogies Cigar Lounge," he said.
On those Tuesday nights, the hot dog bar is open with fixings such as street cart onions and kraut, plus Coney Island chili dogs. Chicago beef sandwiches and San Genaro-style sausage and peppers are also served.
On the second Sunday of every month, Stogies hosts a Cigars and Car Show Night.
On the third Thursday night of every month, there's a themed dinner for couples, and every Wednesday night, it's Domino Night at Stogies. All the action starts at 6 p.m.
"We provide the food, and you bring your own bottle," Morera explained.
And when there's a big prize fight on the sports calendar, Stogies provides its own ringside perspective.
"We always show all the UFC and boxing events on our big-screen TVs," Morera said.
Looking forward, Morera plans to cater to fans of college football, pro football and World Cup soccer.
"We will have a number of football tailgate parties, especially on Sundays," Morera said. "We'll be hosting some viewing parties for World Cup soccer games this coming November and December."
While the general public is invited to visit Stogies, Morera also sells annual memberships — and there are benefits to being a member.
"Every quarter, we have members-only events," Morera said. "Members also get discounts on merchandise, and they get a locker where they can keep their cigars. Those lockers are humified, which helps preserve the cigars."
While many people may associate cigar smoking with men, Morera said that at least 30 percent of his clients are women, including his wife. "My wife likes cigars, and she has plans for a ladies' night soon here at Stogies," he said.
In addition to providing a venue for customers to relax while enjoying a cigar, Morera has a retail business inside the lounge. As you would expect, cigars are always a big seller. They are stored in the walk-in humidor at Stogies.
"We sell between 45 and 50 different brands of cigars, which come from the Dominican Republic, Honduras and Nicaragua. Those are the major tobacco-producing countries," Morera said.
As you would expect, Morera has a preference when it comes to cigars.
"My favorite cigar is either the Padron 1926 or 1964," Morera said. "It comes from Nicaragua."
According to Morera, cigar smokers also enjoy buying cigar accessories at Stogies.
"We have everything from cutters, lighters, ashtrays, travel bags, wallets and so much more," Morera said.
Morera makes it easy for customers to visit Stogies, since it's open seven days a week.
"We are open from 10:30 a.m. to 9:30 p.m. Sunday through Thursday," Morera said. "We are open longer on Fridays and Saturdays. We don't close on those nights until 11:30 p.m. or later, depending on whether there's a big game on television."
Stogies Cigar Lounge is located at 8480 Okeechobee Blvd., Suite 4, in West Palm Beach. For more information, call (561) 291-9866. To stay current with what's up at Stogies, visit them online at www.stogieswestpalm.com or www.facebook.com/stogieswestpalm.