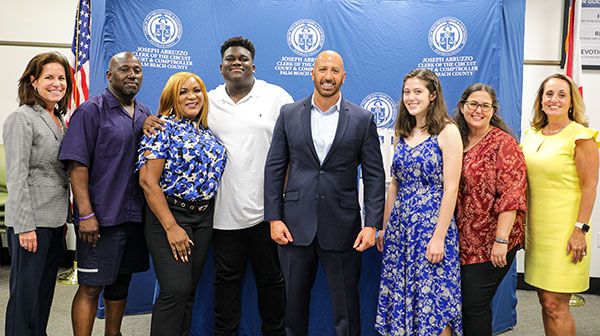 Three Palm Beach County students will each receive a $1,500 college scholarship to help them reach their academic goals, thanks to generous donations from Clerk of the Circuit Court & Comptroller employees.
Recipients include Lucille Jefferys, a graduate of Inlet Grove High School in Riviera Beach; Daniella Reyes, a graduate of John I. Leonard High School in Greenacres; and Michael Hunt, a graduate of the Alexander W. Dreyfoos School of the Arts in West Palm Beach.
The Clerks for a Cause Scholarship Program is open to dependent children of clerk employees. The office's employee-led Charitable Giving Committee selects the winners based on the student's community service, grade point average and a 500-word essay.
"Our team is proud to help these students succeed in their academic journeys and career aspirations," Palm Beach County Clerk Joseph Abruzzo said. "We're helping to give them a financial head start in their education."
This year's scholarship winners are planning careers in engineering, healthcare and the arts.
Lucille Jefferys plans to attend Embry-Riddle Aeronautical University to major in aerospace engineering. She is the daughter of Jessica Comis, a manager of finance services in accounts payables.
Daniella Reyes plans to attend Palm Beach State College, where she is studying nursing and wants to become a nurse practitioner. She is the daughter of Payment Specialist Vicky Vargas.
Michael Hunt plans to attend Florida Atlantic University, where he is majoring in music playing the trombone. He is the son of Lead Court Specialist Loraine Hunt.
The scholarship program is funded solely through donations from employees who voluntarily participate in the office's Dress Down Program, which allows team members who donate $5 per pay period to wear jeans once a week.