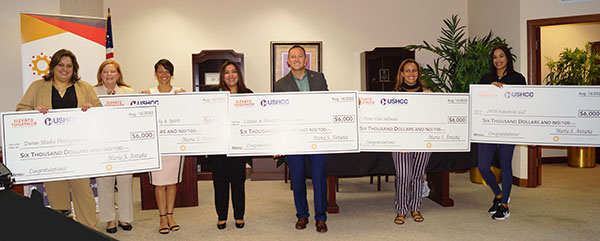 By Melanie Kopacz
Five Hispanic-owned Palm Beach County small businesses are each getting a "lift" through a $6,000 check, as well as business mentorship through an initiative called "Elevate Together."
The $30,000 in grant money was awarded during a ceremony Tuesday, Aug. 16 at the Wellington office of the Hispanic Chamber of Commerce of Palm Beach County, which is affiliated with the Central Palm Beach County Chamber of Commerce.
In order to qualify, awardees must be a micro-business with less than five employees. A one-year mentorship program is also required.
The five Palm Beach County businesses chosen were PuraVida Wellness Center, Celebrity Lashes & Makeup, License & Permit Services Inc., Sanctuary for Mind Body & Spirit, and Duran Studio Photography.
The nonprofit program was started through Office Depot partnering with the United States Hispanic Chamber of Commerce and JPMorgan Chase. The Hispanic Chamber of Commerce of Palm Beach County has been involved since 2021. It includes workshops, training, tech assistance and more.
Alex Price, Office Depot's national director of community investment, has enjoyed hearing the stories of these unique family businesses. "These micro-business communities are being strengthened," he said.
The program's goal is to accelerate the creation, growth and prosperity of Black and Hispanic businesses, and address systemic discrimination and historical racial disparities in business in these communities.
"It's a great opportunity," said grant recipient Norma Duran of Duran Studio Photography. "It's absolutely a blessing, because you don't get these opportunities all the time, especially in the Latin population."
Each business must be registered and certified. They are then matched with a certified small business mentor from the community to help strategize and grow.
Duran plans to focus on marketing her photography business and rebuilding her web site.
Price calls the mentorship essential.
"Funding helps, but it has to come with community. It has to come with ongoing support in terms of learning new business skills," he said. "A lot of times, we're experts in what we do, but building the business around that — that's the journey."
Since 2021, a total of eight Hispanic recipients from Palm Beach County have been awarded for a total of $60,000 thus far, and another $30,000 will be awarded by year's end, in a county that has a huge minority-owned business population.
"In Palm Beach County, 49 percent of businesses are minority owned," said Maria Antuña, CEO of the Hispanic Chamber of Commerce. "More than 10,000 of those are Hispanic owned, and in our chamber, 76 percent are small businesses."
One of those small business owners is Luis Pastor of Elite Printing in West Palm Beach. He was one of last year's recipients and said the grant came just in time and helped to save his business.
"For us to receive this grant, it was like light at the end of the tunnel. We were coming out of the pandemic," he said. "I had to rely on my credit cards to keep parts of the business going. So, part of that grant I used to get some new equipment that we needed. I'm really grateful. It was truly a blessing."
"Elevate Together," which is also partnered with the National Urban League's Entrepreneurship Centers, is a national initiative already in 13 markets, and Price said they plan on impacting a total of 300 small businesses by the end of the second year.
"We work with our community-based organizations like the chamber. We provide the criteria. We want someone with a heart to grow. They're 'all in,' into the business, but really want to get to the next level," Price said. "They let us weigh in as a non-voting member, but we really want a community-based organization that knows the journey of their minority entrepreneurs and have them make the final choices."
And, as it grows, the nonprofit hopes they can count on even more corporate sponsors to contribute and partner with to keep the momentum going.
For more information on the Elevate Together program, visit www.elevatetogether.org.
Learn more about local Hispanic Chamber of Commerce programs and workshops at www.hispanicchamberpbc.com.