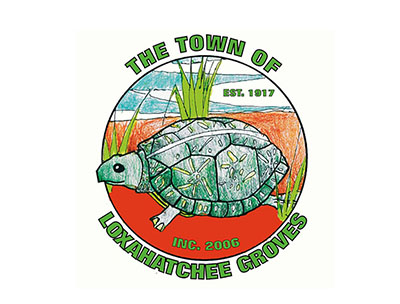 After years of planning, the Town of Loxahatchee Groves is rolling out its new CodeRED notification system. Members of the Loxahatchee Groves Town Council got an overview of the system on Tuesday, Aug. 16 and urged all residents to make sure they are signed up.
"This has been many years in discussion, and it is nice to see something as important as this coming to fruition," Mayor Robert Shorr said, noting that council members and town staff were wearing red in honor of the new system.
Public relations consultant Carlos Perez took the council through an overview of CodeRED, which the town plans to use to keep residents informed of important town news and special events, as well as emergency situations.
"We have now finished the configurations, and we are ready to start using this communications tool to inform town residents of any alerts or messages that we want to send out," Perez explained.
He showed step-by-step how people can register for the program, adding that there is information on the town's web site explaining the new communications tool and how to sign up.
CodeRED is a high-speed call, text and e-mail system delivered to phone numbers that are included in the town's database. Some phone numbers associated with town residents have already been added to the system through public databases. However, residents are encouraged to log in and register to make sure that they are in the system and that their information is accurate and complete.
Perez said that it takes less than five minutes to visit the site, create an account and update your information. From the site, residents can customize how they receive information. Options include texts, recorded phone calls and/or e-mails.
The CodeRED system is also integrated with the National Weather Service, so residents can opt-in for weather-related notifications, such as severe storms or tornado warnings.
There is an informational page on the web site detailing the entire system, and a letter will also go out to town residents to explain the new system. Residents can also text "LoxahatcheeGroves" to 99411 to enroll. For those who prefer it, there is also a mobile alert app that will also provide the notifications.
Residents who do not want the town notifications can also opt-out through the web site.
"We are ready to use the platform," Perez concluded. "Any messages you want to send out to the town, we should be ready to go."
Vice Mayor Laura Danowski has been a big supporter of the program, pushing it forward as a way to better communicate with residents. "Thank you, and thank you to staff and anybody who helped move this project forward," she said.
Danowski made it clear that the CodeRED list is not for sale. It is for town use only. Furthermore, while the town has access to use the database, but does not have access to look people up through the system. The company itself does have access to that information, but it is strictly private and will not be sold or used for any other purpose.
Shorr thanked former Loxahatchee Groves Water Control District Supervisor Don Widing, who brought the CodeRED idea to the council and has been pushing for it for years, as well as Danowski for her support in getting it done.
"This is going to be a great tool, and I hope everyone in the town realizes that this is a positive tool and takes advantage of it," he said.
Town Clerk Lakisha Burch said that town staff plans to use CodeRED for a wide array of communications, such as announcements of special town events and road closures.
"We are going to use this for almost everything," she said. "Many communities who have this don't, but we feel it will be better for our town to utilize it for other aspects."
Perez added that the system can also be used as an internal communications tool. A subgroup for town staff members can be created to message just those people for internal town communications.
The system is not limited to town residents. People who work or do business in the town but live elsewhere are welcome to sign up. Visit www.loxahatcheegrovesfl.gov to learn more.
In other business, the council heard a presentation from Florida Power & Light updating them on FPL's ongoing project to make electrical lines more secure.
The current project removes 64.4 miles of overhead lines and places them underground, benefiting 1,066 properties in Loxahatchee Groves.
According to FPL's Don Kiselewski, the program will bring 50 percent better day-to-day operations in those areas, as well reducing outages caused by vegetation and speeding up storm restoration time.
The southwestern parts of the community have already been completed, with the northwestern portion currently under construction. The northeastern portion of the town is set to get its underground lines in 2023.
Shorr wanted to know when the project would get to the more densely populated southeastern portion of the town.
FPL representatives explained that the projects are assigned not by municipality, but by feeder lines, and the feeder line in the southeast portion of the town, which also serves the Palms West Hospital campus, is more reliable and has less problems with storms and outages. Therefore, that section is not on the schedule yet.
"That is very unfortunate," Shorr said. "This was presented as a town-wide project. It was never mentioned to not include 30 percent of our town. That is a densely populated area. It is all smaller lots."
Kiselewski said that FPL is on year three of a 30-year program to place electrical lines underground.
"We have been focusing it on the poorest performing lines first," he said. "However, we will take your feedback to our team. We certainly understand your concerns about trying to get your full town underground."
Shorr also brought up some other problems that have come up with FPL's project, such as when drainage culverts cross FPL easements. There have been cases, he said, of the new underground high-voltage wires being placed on top of the culvert pipes, which means they will have to be dug up when culverts are replaced. They need to go under the culvert pipes, Shorr stressed.
There have also been some issues with pad-mounted transformers on easements designed to also serve as horse trails, he added. The FPL representatives asked to have locations where that is happening, and they will look into it.
What Is CodeRED?
CodeRED is an electronic emergency notification system that enables local officials to notify residents and businesses of emergencies that may require action. Alerts come via phone, text message and e-mail. With CodeRED, government agencies can easily deliver geo-targeted, urgent messages to their communities. Alerts are issued by geographical location.
Public databases have been used to collect telephone numbers for existing Loxahatchee Groves homes and businesses and placed into the town's CodeRED database.
The CodeRED system delivers customized, prerecorded messages directly to homes and businesses, or to those traveling through the county via the free mobile app. It will be used for significant incidents and events where timely notification is essential, or to provide information about town services about to be affected for things such as garbage pickup, road work announcements, special events or other relevant information.
To receive CodeRED notifications, residents will need to register their phone number and/or e-mail in the CodeRED database, especially if you have an unlisted phone number, or have changed your phone number or address within the last year. To register, visit www.loxahatcheegrovesfl.gov.
As a bonus feature, Loxahatchee Groves residents can also sign up for CodeRED Weather Warning, which will automatically notify residents when severe weather (tornado, flash flood or severe thunderstorm) warnings are issued by the National Weather Service for your address. This system notifies only when warnings are issued and only if your address is in the path of the storm.