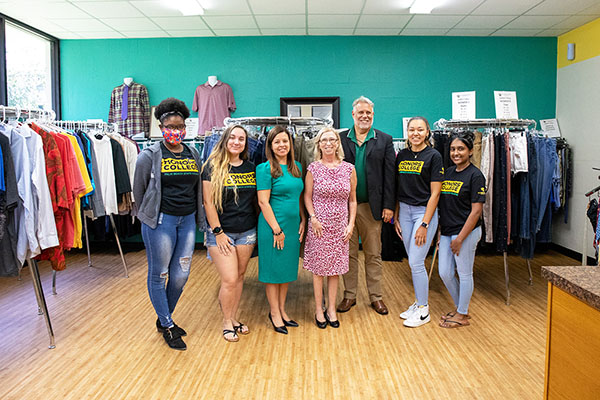 Florida State Rep. Kelly Skidmore, a graduate of Palm Beach State College, visited PSBC's Lake Worth campus on Aug. 3 to present items collected from a clothing drive she conducted to benefit Panther's Closet, a thrift store that provides affordable, gently used clothing and accessories to students and members of the PBSC community.
Skidmore brought more than 200 items that were dropped off at her office. The clothing drive was held from July 1 to 27. In addition to Skidmore's office, hundreds of donations were collected at Panther's Closet on PBSC's Lake Worth, Palm Beach Gardens and Belle Glade campuses. Merchandise can be purchased at the closets for $1 per item.
Panther's Closet is run by PBSC student volunteers from the Dr. Floyd F. Koch Honors College, as a community-based learning course that teaches them key entrepreneurial skills in management, sales and team building.
"We are so excited to have participated with PBSC on this venture to help students be prepared for a job interview or their first day of work," Skidmore said. "It also taught students how to run a business, take care of it and be passionate about it, which is a great service."
One of those students is Ashley Castillo, a Palm Springs resident who has served as the manager for the Lake Worth and Palm Beach Gardens closets this summer. Castillo, who was voted by her peers to serve in the role, said it has been an enjoyable experience that she will include on her résumé for future jobs.
"I feel like you get to learn customer service really well and how to be professional," said Castillo, who is pursuing a career in respiratory therapy.
Another student, Areema Sadik, enjoys working at the closet because of the impact it has on the PBSC community.
"It is a lot of fun just seeing how happy customers are when they find something they want at such a great bargain," said Sadik, who lives in West Palm Beach. "I feel like I'm privileged compared to a lot of people, so having a store like this for them is a great asset."
Skidmore also toured Panther's Pantry, a free resource for PBSC students and staff that provides canned food, frozen meat, fresh produce, snacks and toiletries.
"We are so grateful that Rep. Skidmore and her team partnered with us to help our PBSC Panther community," said Marcella Montesinos, director of the Dr. Floyd F. Koch Honors College. "It's partnerships such as these that help support student success."
Also in attendance at the event was Florida District 81 aide Khadeidra Willis and Dr. Peter Barbatis, vice president of student services and enrollment management.
For more information about the Panther's Closet program, visit www.palmbeachstate.edu/panthers-closet.