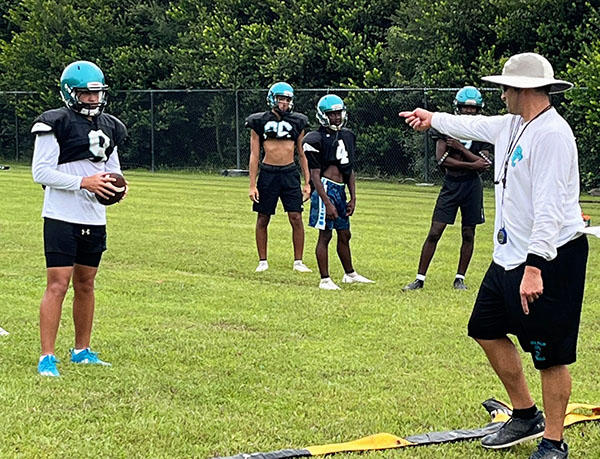 There's a new head football coach roaming the sidelines at Royal Palm Beach High School this fall, and he expects different results in the win-loss column this season after a difficult campaign last year.
The Wildcats' new gridiron leader is Chuck Kenyon, and he is asking his players to trust his vision and give maximum effort.
"I am asking the players to be diligent and to work hard," said Kenyon, who is starting his 13th year as a high school head football coach. "They are doing just that."
Kenyon most recently coached in Georgia, but he previously served as head football coach at Sebastian River High School and Martin County High School here in Florida.
At the end of last year's football season, there were less than 30 players on the varsity squad at RPBHS. To date, more than 70 players want to play football for the Wildcats this fall.
"The first week of practice was a whirlwind," Kenyon said. "The kids are buying in to what we are coaching. We have a structured program."
The first official day of football practice for this fall was on Monday, Aug. 1. The players wore shorts, jerseys and helmets for the first two days of practice, as per the rules of the Florida High School Athletic Association. For the third, fourth and fifth days of practice, they started to wear shoulder pads as well, but no contact was allowed.
In addition to speed and agility workouts, Kenyon and his coaching staff have been busy installing new plays and calls for the offense, as well as a new defensive scheme. While the team does feature many players who started on last year's team, Kenyon said starting spots must be earned every week in practice. "We have several talented players from last year's team, but I have told them that we have 22 spots open for starters," Kenyon said.
Kenyon is giving every player on the team a chance to earn a starting position. The players heard Kenyon's message and they are responding.
"They are adapting to my way of thinking," added Kenyon, who was named the head coach in early June.
According to Kenyon, the strong level of participation this month can be traced to the number of players who showed up for strength and conditioning during the summer.
"This summer, we met for conditioning on Tuesdays, Wednesdays and Thursdays," he said. "We had good participation."
The Wildcats are getting ready for their kickoff classic game — a preseason practice match — against West Boca Raton High School on Friday, Aug. 19. That game will be played at Royal Palm Beach High School. The Wildcats' regular season opener will be Friday, Aug. 26 at 6:30 p.m., when they will host Fort Pierce Westwood.