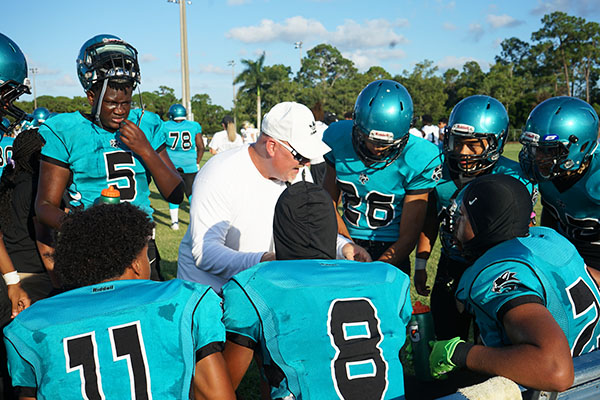 Royal Palm Beach High School's football team has a good reason to be optimistic about the current season, which begins Friday, Aug. 26 in its home opener against Fort Pierce Westwood at 6:30 p.m.
In last Friday night's, preseason kick-off classic game at home against West Boca Raton High School, the Wildcats trailed 8-0 at halftime and 14-0 midway through the third quarter.
But then, the momentum shifted for the Wildcats. Despite having committed four turnovers in the game, they rallied with two second-half touchdowns to win the game.
The game-tying touchdown was a five-yard pass from senior quarterback Kimo Ibanez, a transfer from Hawaii, to senior wide receiver Tobi Atoki.
On the next play, senior running back Donovan Grier ran for the two-point conversion to give the Wildcats a 16-14 lead. The Royal Palm Beach defense hung tough to preserve the victory.
"I was proud of my team's effort tonight," said Royal Palm Beach head coach Chuck Kenyon, who took over the program in June. "We were down at halftime and trailed by even more early in the second half. We could have given up, but we didn't give up and we battled back, despite committing four turnovers. We need to work on everything as we get ready for Fort Pierce Westwood."