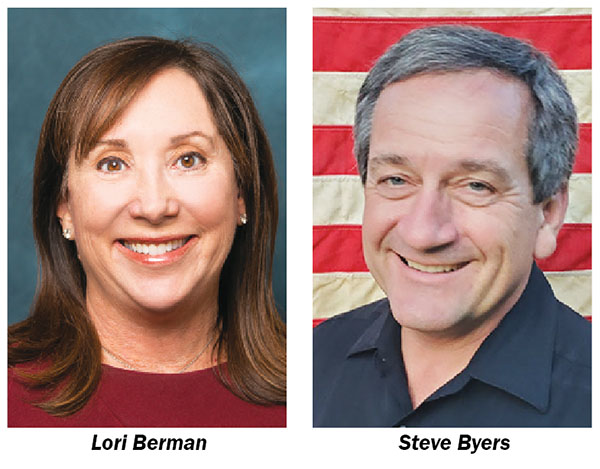 Wellington voters will select a new state senator during November's general election, choosing between attorney Lori Berman, a Democrat who is the incumbent state senator in District 31, and the Republican nominee, entrepreneur Steve Byers.
For the past two years, Wellington has been represented in Tallahassee by State Sen. Tina Polsky, who was elected in 2020. However, with redistricting, Wellington was drawn into the new District 26, which includes Berman's home base of Delray Beach, as well as Boynton Beach, Wellington and the Glades. Polsky is running in the new District 30, which includes parts of southern Palm Beach County and northern Broward County.
As drawn, the new District 26 favors the Democratic candidate, but Berman's challenger Byers, who defeated fellow Republican William Wheelen in last month's primary, believes that he has a winning combination of issues that will draw voters to his side.
Lori Berman — Berman served in the Florida House of Representatives from 2010 to 2018 before being elected to the Florida Senate in 2018. She currently serves on the Education, Ethics & Elections, Finance & Tax and Transportation committees, as well as on the Appropriations Subcommittee on Agriculture, Environment & General Government.
Mother to two children, Berman grew up in South Florida.
"I grew up in Broward County, and I moved to Palm Beach County in 1989," Berman said. "When I first ran for office in 2010, my goal was to make Florida a place my children would want to live and raise their families."
She has been partially successful in that goal, since one of her children has returned to live in the area.
"It is important to make Palm Beach County a place where people can prosper," Berman said. "Job creation is very important, and I support efforts to diversify our economy. I sponsored the bill for the Ballpark of the Palm Beaches. I'm excited it's here, and we are growing that part of our economy. We also need to focus on clean energy and grow that part of our economy, including solar."
She is very proud of her efforts in bringing state dollars back to the area. "I have been very successful in bringing millions of dollars back to Palm Beach County, for a variety of different, diverse groups that have benefited from these dollars in the state budget," she said.
Several programs she has brought back money for include the restoration of the Lake Worth Lagoon, a rehabilitation center in Pahokee and money for many nonprofits in the community.
As far as legislation, Berman is particularly proud of her work in implementing the Purple Alert system, which is designed to help people with developmental disabilities that fall outside the confines of the Amber Alert for children and the Silver Alert for senior citizens.
"There is now a purple alert, and law enforcement has a procedure in place to immediately look for them," she said. "That bill was a direct response to a man who went missing in the Port Saint Lucie area and was found in a retention pond. He was nonverbal. We want to prevent something like that from ever happening again."
Berman strongly believes that she is the best candidate to represent this area in the Florida Senate.
"I believe that I have been an effective legislator for the past 12 years," she said. "I have been successful in passing legislation and in bringing money back to the district, as well as representing my constituents, which in recent years has meant helping with unemployment claims. I believe that I will continue to be an effective legislator if re-elected."
Her key issues this election cycle are the same issues she has worked on during her entire legislative career.
"This includes fully funding our education, so we have a robust public school system; making sure our environment is clean; and making sure people have access to healthcare," Berman said.
Over her upcoming term in Tallahassee, she would like to see Florida address safe, clean water throughout the state, which includes a bill she is sponsoring to make sure that contaminated water sources are properly marked with signage.
"On healthcare, I would love to see the state expand Medicaid to help the 800,000 people who are the working poor have healthcare," Berman said. "I would like to continue to see that our traditional public schools get more funding, especially for teachers, who I believe are underpaid in our state."
She is also a strong supporter of a woman's right to choose.
"Any decisions about a woman's reproductive rights should be between a woman, her family and her doctor, and whomever she chooses to be involved — but not her legislators," Berman said.
Berman is looking forward to working in her new district, which now includes the Village of Wellington.
"I am very excited to hopefully have the opportunity to represent Wellington," she said. "I have worked in the past with the legislators in the Wellington area. I am excited to learn more about the equestrian community and to become more involved in the community as a whole."
To learn more about Berman's campaign, visit www.loriberman.com.
Steve Byers — A self-proclaimed "serial entrepreneur," Byers moved to western Delray Beach from the Pittsburgh area in 2004.
"It's a blue-collar town, where people know the value of hard work," he said of growing up in Pittsburgh. "I was kind of shocked that there was this lack of integrity in people here in South Florida."
A pilot, Byers lives in an aeronautical community on a 2.25-acre lot on an airstrip and holds a patent on an airfield mat that protects runway lights. He has worked in computer consulting and has also bought and sold airplanes, but Byers is perhaps best known for his work as a beekeeper.
"It was a natural curiosity that was stirred up when my neighbor had a beehive removed," Byers recalled. "The beekeeper ended up selling me a beehive."
He currently has 100 or so hives on his property.
"It is a bee farm. We sell honey," Byers said. "It's better to attract flies with honey than vinegar, and I have plenty of honey. We provide a lot of people in Delray Beach with honey. I sell honey at the Mar-a-Lago spa, so perhaps that was perhaps my start in politics."
Should he make it to Tallahassee, Byers wants to take on two of the most powerful special interests in the state — the insurance industry and homeowners' associations. He believes that both have far too much power and use it to harm everyday Floridians.
"We got hit with Hurricane Wilma, and we had to struggle through an insurance claim," Byers recalled. "It was so difficult for me."
After having to hire a public insurance adjuster to fight for his claim, he ended working as a public adjuster to help other people overcome the struggles that the homeowners' insurance industry puts upon its customers.
"These insurance companies have wined and dined lawmakers, and they side with them at the expense of their constituents," Byers said. "Everyone you talk to has had a struggle with an insurance claim. And everyone who hasn't, knows three people who has."
He is especially unhappy with rules that allow the insurance companies to deny insurance on a fully functional roof because of its age. "There are many people who have had to replace roofs that have no problems in order to get insurance," Byers said. "These insurance companies have tons of money. They are some of the largest companies in the world."
Byers has also done battle with his local HOA and wants to level the playing field.
"Almost at the same time, I'm getting an education from a tyrannical HOA. I am not the only one who has HOAs beating up on a small guy," he said. "I've had to do a lot of my own litigation and read the laws. I've learned that a lot of these laws are unconstitutional."
He believes that HOAs have too much power and wants to stop "HOA overreach."
"There should be a way for anyone to leave their HOA if and when they want to," Byers said. "That would require the HOAs to be on their best behavior… People have the right to their homestead, and HOAs should not trump their homestead."
Byers considers his family to be his top accomplishment in life. He and his wife are homeschooling their two children, ages 12 and 16.
If elected, Byers said that he would be responsive to residents.
"I answer my phone and respond to e-mails. Anyone can call me and e-mail me, and I will take time to talk to them," he said. "My opponent has a reputation of not doing that. I think that people deserve to have someone listen to them. Who better to stand up to those career politicians, who I believe have lost touch."
In the Florida Senate, Byers said he would be on the team of Gov. Ron DeSantis. "I am also for election integrity because without that, nothing matters," he said.
While he may be the underdog in this race, Byers believes that he is the better choice for voters.
"I am new blood, and I am going to go up there and represent the people," he said. "It's all politics, and the people don't like it. But I don't think they have had someone like me to deal with. I'm strong and likeable. Let's just see what happens."
To learn more about Byers, visit www.votestevebyers.com.