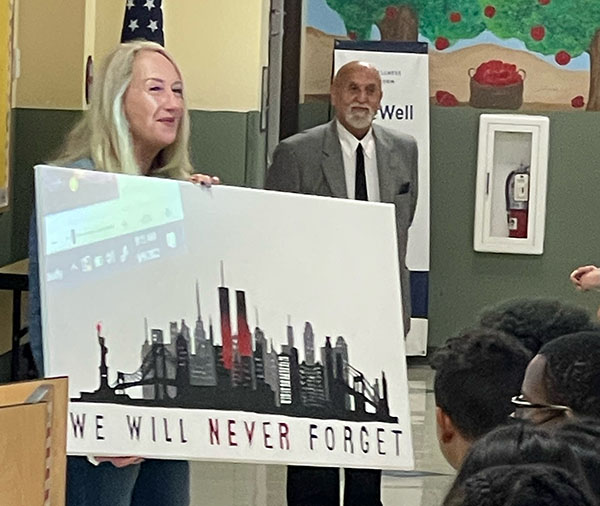 On Sept. 9, the students at Renaissance Charter School at Wellington experienced a memorable history lesson. At an assembly to honor the memory of those lost on Sept. 11, 2001, they journeyed back in time as they watched powerful visual presentations of that day, along with listening to moving, real life experiences from those who were there.
Unlike the old pledges to "Remember the Alamo," "Remember the Maine" or "A day that will live in infamy," the school chose to not let the cry of "We Will Never Forget" to fade into history by creating a "new" memory of that day — a memory that can be told and retold by youth who were not yet born in 2001. Student drawings, paintings, interviews with parents and grandparents all came together for a remarkable experience that the students will never forget.
As part of the event, Principal Mary Beth Greene was presented with a painting of the New York skyline prior to 9/11. More than 50 students took part in its creation. The school thanks the students, parents, staff, guests such as Councilman John McGovern, and presenters such as Ingala O'Brien (personal story shared) and Joseph Cominio (shared a story from Kristin Moya) for participating in this memorable event.