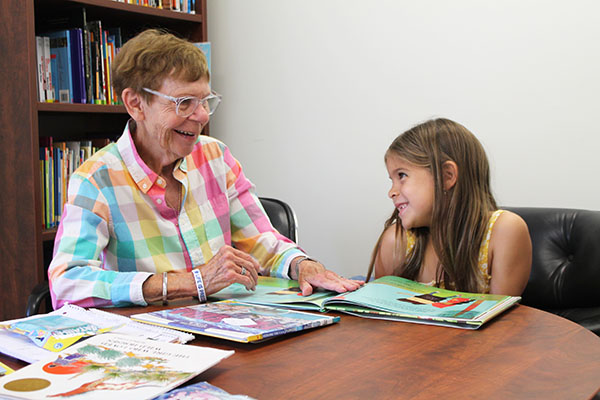 For the first time since the tutoring program Building Better Readers began nine years ago, the Literacy Coalition is finally getting tutors into schools here in the western communities.
Loxahatchee Groves Elementary School and New Horizons Elementary School have both joined the program for the 2022-23 school year. This is great news for students in younger grades who find themselves behind in reading due to the pandemic.
"It's an intensive tutor program to help students in first through third grades improve their reading comprehension," Building Better Readers Manager Jeanne Heavilin explained. "We place volunteers either in the classrooms during the student's reading time or afterschool for in-person tutoring. We have partnered with the district, and they have designed a tutoring model that will supplement classroom instruction."
In order to get schools into the program, first the Literacy Coalition needs to find volunteers interested and willing to go into the schools to work with kids.
"We can only go to as many schools as we have volunteers," said Megan Bob, director of education and family literacy for the Literacy Coalition. "We have a large volunteer base in Boca Raton, so we added a school. We have a large base up north, so we added two schools. We've never had a school in Wellington, Royal Palm Beach or Loxahatchee, so we are excited that we are finally getting to those areas for the first time."
In Palm Beach County, 46 percent of third-grade students are reading below grade level. This is a serious issue because falling behind early in their education puts them on a downward spiral as they continue in school. Originally, the program was designed for Title 1 schools, but now all schools have struggling students.
"Building Better Readers was started in response to the Campaign for Grade Level Reading, which stresses the importance of third graders being at grade level at the end of third grade. Students learn to read in kindergarten through third grade, and they read to learn after third grade, so it's critical that we get them up to grade level by the end of third," Heavilin said. "Right now, many are pretty far behind. Last year, 54 percent of the second graders we tutored were reading at a kindergarten level. The second graders last year, for some of them, that was their first year that they were physically in the classroom, so they not only had to catch up on reading, but on how to act in the classroom."
What matters most is that the program continues to show gains for participating students.
"The program goal overall is that of the students we work with will be at least 50 percent closer to reading on grade level by the end of the school year," Bob said. "We have met that goal every year, except during the pandemic, when we ended in March, and we didn't have reading assessments. We had no data. This past year, we had 73 percent of our students meet that goal, and 20 percent of the students actually ended the year on grade level."
The Literacy Coalition recruits, trains, places and supports volunteers in schools and also conducts tutoring afterschool at their site in Boynton Beach. Volunteer tutors commit to 60 or 90 minutes in a school classroom twice a week, or one hour once a week either afterschool at the coalition office in person, or virtually for students who cannot come to Boynton Beach. The program is free to students.
"Volunteers work with the same students for the entire school year because relationship building is important in building their reading skills," Heavilin said. "Each student in the program receives 10 books throughout the school year to keep and establish their own personal library at home."
The next training session for tutors will take place on Thursday, Sept. 29, at the Literacy Coalition office, located at 3651 Quantum Blvd. in Boynton Beach, and in Belle Glade on Friday, Oct. 14. To register for either training, visit www.literacypbc.org and check out the "How Can I Help" section. To learn more about the program, or for schools interested in signing up, contact Heavilin at jheavilin@literacypbc.org or call (561) 767-3366.