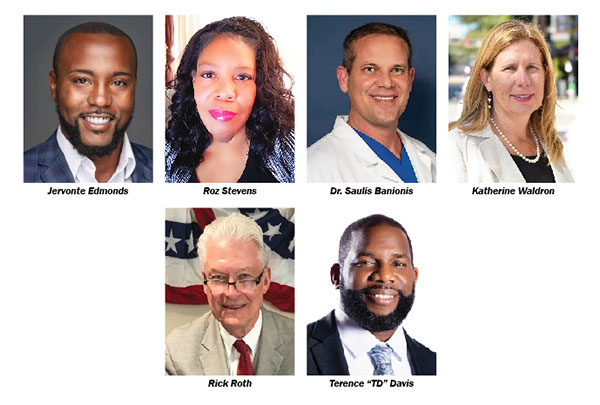 This year's redistricting of seats in the Florida House of Representatives divided the western communities across three state house districts: District 88, a mostly West Palm Beach-based district that now includes parts of Royal Palm Beach; District 93, which includes Wellington and several eastern areas; and District 94, which includes the Acreage/Loxahatchee area, Loxahatchee Groves and much of Royal Palm Beach.
Each of these three districts feature contested races. In District 88, incumbent State Rep. Jervonte Edmonds, a Democrat, faces Republican challenger Roz Stevens. District 93, an open seat, features Republican nominee Dr. Saulis Banionis and Port Commissioner Katherine Waldron, the Democratic nominee. In District 94, incumbent State Rep. Rick Roth, a Republican, faces a challenge from Democrat Terence "TD" Davis.
District 88
State Rep. Jervonte Edmonds, a Democrat and the incumbent in District 88, was elected earlier this year in a special election to replace former State Rep. Omari Hardy, who resigned to run for the U.S. Congress.
Well-known as the founder of the Suits for Seniors program, Edmonds is originally from Titusville, Florida. He earned his political science degree from Florida Atlantic University and worked in real estate before taking a job with State Sen. Bobby Powell.
"I then worked for the Criminal Justice Commission of Palm Beach County as a safety and justice analyst," Edmonds said. "My job there was to reduce the jail population in the county."
Along the way, he wrote three children's books and was CEO of the Police Athletic League. He has been involved in a number of other nonprofits.
"Outside of being a legislator, I have made a tremendous amount of impact on the community," he noted. "Through the impact I've made in the community, I wanted to expand that impact in the state legislature. I've only been elected for six months, but I've already brought $1 million down to serve this area."
Much of that money was to make sure Riviera Beach has clean water.
Edmonds believes that he is the best person to continue representing District 88, which has shifted through redistricting to represent more suburban areas, including parts of Royal Palm Beach.
"I am the most experienced person," he said. "I have served in this District 88 for coming up on a decade. I have not only been a great legislator, but I have already been a great service leader in the community."
His goals for the next two years in Tallahassee will focus on programs to help all Floridians.
"When I win this election, my full term will be focused on fully funding education, providing affording housing and homeownership, and providing for our most basic needs, like clean water," Edmonds said.
Visit www.jervonteedmonds.com to learn more.
Republican challenger Roz Stevens is a West Palm Beach native who believes her lifelong experience in the district will give her an edge with voters.
"My family owned a business in this area, Stevens Brothers Funeral Home, for 60 years in the heart of the Black community. My family name is very well known in this community," she said. "Those connections are very strong. I am going around to the different Black churches now and am being welcomed with open arms."
Stevens works in healthcare staffing for hospitals. She is leaning into a predominantly economic message.
"The economy has touched me like a lot of different people. Even before redistricting, District 88 was never changing," she said. "The same old policies are crushing people economically. This is a chance to change things. People are really into my economic message. They don't have to be satisfied with what they are currently getting."
She described the new District 88 as a "split district" that has put several suburban areas into a district that was previously a mostly urban area.
"I have been a homeowner and a renter. That is where I want to talk to homeowners," Stevens said. "With interest rates going up, we have to deliver some kind of relief regarding homeowners and taxes. Everybody is being hit by food prices and gas prices."
She would like to reduce the state's gas tax for a longer period than currently proposed.
"I would deliver a vote for any economic package that would help South Florida," Stevens said. "I want to work together with the governor — he has great ideas — and also with my fellow Republicans."
She said that District 88 needs new representation in Tallahassee.
"The Democrats aren't going to represent us at all," Stevens said. "They want to stand on dissent and be the opposition party. That doesn't help District 88. We need to craft a plan to protect Florida to mitigate what is going on nationally."
Visit www.voterozstevens.com to learn more.
District 93
Dr. Saulis Banionis is the Republican nominee in District 93. A Wellington resident since 2007, his practice is in interventional pain management and regenerative medicine.
A first-generation American, Banionis is the youngest of eight children. His parents immigrated from Lithuania after World War II. "They survived the Nazis, as well as communism," he said. "They taught us the value of hard work and the value of education."
Banionis served in the U.S. Army National Guard and paid his own way through college and medical school. He has a business degree from Miami University and a biology degree from the University of Illinois Chicago. His medical degree is from Ross University, and he completed his residency in New York, followed by an interventional pain fellowship. He is also trained in stem cell and regenerative medicine.
"The difference between my opponent and I is that I have worked, lived and owned my small business for the last 15 years in our community," Banionis said. "As a physician in our community, on staff at local hospitals, I hear the concerns of our community every day from patients."
Banionis stressed that he has been active in the Wellington community and beyond.
"My wife and I have been very involved with the Wellington Chamber of Commerce for 15 years, with my wife serving as president of the chamber and now serving on the board," he said. "We worked with the Wellington Chamber during the pandemic to safely open small businesses and churches. We sat alongside the chamber fighting to keep small businesses running during the pandemic, including helping fill out the PPP loans so businesses could stay open."
He added that his family is involved with local charities, such as Wellington Cares and Place of Hope.
"When I say that I am the best candidate to represent my community, I am not Googling what my community needs. I know what my community needs, because I am a part of it," Banionis said. "We need somebody in Tallahassee who will represent us as a community, not use this position as a state representative as a steppingstone for a higher political office."
In Tallahassee, he wants to help those struggling with inflation.
"My first goal is to provide relief for small businesses and families," Banionis said. "The way we do that is immediate tax relief. We can suspend the gas tax. We can also suspend the property tax. We can provide a bump for families and small businesses so that they have a little more to rely on."
He also supports tort reform, reforming the insurance industry and reforming education to give parents more control. Banionis is also concerned about child trafficking.
"A lot of this has to do with enforcement," he said. "We need to make sure that the police and the first responders have all of the resources they need to complete their tasks."
Banionis said that he will not go to Tallahassee to "play political games."
"I am going up there to get a job done, to protect my family, my community and my state," he said. "I will work with Gov. DeSantis and anyone else who wants to help our state."
Visit www.saulisbanionis.com to learn more.
The Democratic nominee for the seat is Port Commissioner Katherine Waldron, who emerged victorious from last month's four-way primary.
Originally from the Washington, D.C., area, Waldron attended the University of Virginia and later earned an MBA from Palm Beach Atlantic University. She has three adult children. After moving down to the area nearly two decades ago, Waldron got involved in local politics and community service.
"When I came down here, I started a downtown political action committee, and I co-founded Palm Beach County Cares to help hurricane victims in the Caribbean," Waldron said.
As an executive with Sprint and Nortel, Waldron looked for a way to put her business background to use in public service. Spurred to action by a controversial port vote in favor of a deep dredge, she ran for the Port of Palm Beach Commission, where she has served since 2017. While she considers overturning the deep dredge her top achievement at the port, she is also very proud of her work helping hurricane victims.
"The Palm Beach County Cares initiative was a non-partisan effort, and the community, from elected officials, community leaders and volunteers came out after Hurricane Maria, and we really made a difference," she said.
Waldron said that she is glad to have the primary behind her and looks forward to reaching out to voters all across District 93.
"As the Democratic nominee, I am now working a coordinated campaign with the rest of the party to lift all boats, so to speak," Waldron said. "I have a lot more support because we are all working together. My positions on the issues haven't changed, but I will be reaching out to those without a party affiliation and some Republicans to try to expand my support base beyond just Democrats."
Waldron believes that she is the best candidate to represent the area in Tallahassee.
"I am an elected official currently, so I understand the importance of being a good representative for constituents," she said. "I have a strong business background, and a strong economy is important to the health of our state. As a woman, I feel that I am well-versed, more than my opponent, in a woman's right to choose, and why that is important."
After winning the election, Waldron will spend time getting herself up to speed on how things work in the state capital.
"My first goal is to learn as much as possible as to how things work up there," she said. "There is always lots to learn. I want to try to stay away from cultural wars and heavy politics and focus on what Floridians need, which is workforce housing, increased mental health support, human rights and a woman's right to choose."
Waldron believes that changes are needed if the state is going to thrive.
"We need to keep Florida moving forward," she said. "It seems that there are some people in Tallahassee who are very focused on pettiness and vindictiveness, and things that are not helping anybody. That is not what the taxpayers deserve."
Visit www.votekw.com to learn more.
District 94
First elected in 2016, State Rep. Rick Roth is now seeking his fourth and final term in a newly drawn district. His current district, which used to include much of Palm Beach Gardens, along with the Acreage/Loxahatchee area, has moved south and west to take in Loxahatchee Groves and much of Royal Palm Beach, as well as the Glades.
A Republican, he is the owner of Roth Farms, and is very familiar with the area.
"I always tell people that I am a native of Palm Beach," Roth said. "I grew up in Belle Glade and lived in Wellington. Now I live in Loxahatchee."
Roth noted that he is very familiar with the needs of rural and agricultural areas.
"I'm a farmer from the Glades serving a rural community that is perhaps underserved and needs some more love and attention," he said. "I do understand the challenges, having lived in this area. I can focus more of my attention on these issues, such as water issues."
This includes working to fund the Corbett levee and, most recently, helping small agricultural farms that are having issues with Palm Beach County.
"I have been dealing with a lot of people who are ag and equestrian," Roth said. "They are having issues with Palm Beach County Planning & Zoning, and I am helping them with their issues."
As far as his recent work in Tallahassee, Roth is most proud of getting more state funding for affordable housing.
"Many years, there was no money given to affordable housing, but there was $352 million allocated in 2022 in the state, and Palm Beach County is getting $14 million," he said. "We need to do it in a consistent and transparent way. I successfully convinced leadership to move affordable housing to the top of the issues we need to focus on."
Roth's next focus is on expanding the state's food bank system.
"What we learned during the pandemic is there is a lot more people who need more food resources," he said. "The amount of food going through food banks rose 70 percent. I want to grow the food bank system. I want to grow the amount of food that is donated by making the program more user friendly for the farmers and food banks."
Roth aims to be someone in government helping those in need.
"It is difficult for people to deal with Palm Beach County government and state government," he said. "My goal is to make that easier and give them someone they can go to."
Learn more at www.facebook.com/RickRothFL.
Former Riviera Beach Councilman Terence "TD" Davis, a Democrat, is challenging Roth in District 94.
After attending Palm Beach Gardens High School, Davis graduated from Florida A&M University with a degree in health education. He has spent 10 years working in the Palm Beach County School District as a teacher and coach at Suncoast High School.
"I'm also a mentor of young men and women in the West Palm Beach area," Davis said. "In 2013, I was elected to the Riviera Beach council and served in office for six years, where I focused on home rule, making sure that local elected officials have local authority."
While in office, Davis said he was able to stabilize the community's water crisis and helped raise $21 million in grant funding to support the Riviera Beach Marina.
In Tallahassee, Davis wants to focus on education and other key issues. "We want to focus on not just teachers, but all school district employees should get much better pay," he said. "Also, women have the right to choose, and I support that right. Government should not be in the business of telling women what to do with their bodies."
Davis also believes that gun control is a key issue, and he wants to put similar regulations in place as with driver's licenses for guns. Additional goals are better water and air quality, infrastructure improvements and access to workforce housing for working-class residents in the area.
"We need affordable housing for everyone, along with rent control, making sure that landlords don't just raise rents without proper notice," Davis said.
As for infrastructure, he said that the area needs a better road system.
"We want to reduce accidents," Davis said. "That is part of public safety."
He also supports more funding for early childhood education and pre-K, as well as reductions in the cost of homeowners' insurance.
"The residents should have someone who will be visible and accessible and vote in the best interests of the district and not necessarily the party line," Davis said. "The people in the district are what matters, and their political affiliation should not determine if they get these services."
Visit www.electterencedavis.com to learn more.