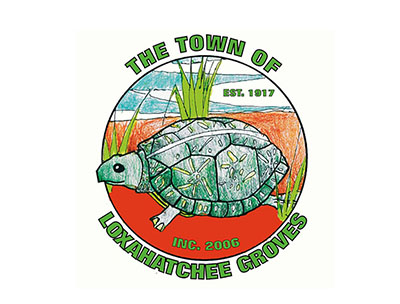 The Loxahatchee Groves Town Council rejected two requests for sign variances on Thursday, Sept. 8. Council members expressed concerns that the larger sign proposed for the new AutoZone store and a second sign at the Culver's restaurant, both planned on Southern Blvd., did not meet the criteria for the variances.
Also at the meeting, the council approved the site plan for the new Southern Lawn Equipment location on Southern Blvd.
Developers of the new AutoZone store planned for Groves Town Center on the north side of Southern Blvd. just east of B Road near Aldi requested a sign variance to allow a primary sign facing Southern of 74 square feet, which is more than double the 36 square feet permitted under the town's code, which allows one square foot per linear foot of frontage. The town's Planning & Zoning Board, as well as town staff, supported the request.
Kerri Sabol, who represents AutoZone's sign company, said that AutoZone wants a sign that can clearly be read from Southern Blvd., which is several hundred feet away. She also noted that several other businesses in the area were allowed larger signs.
Councilwoman Phillis Maniglia was not happy with the request.
"It seems like everybody who comes before us wants a bigger sign, but they don't mention that when they first put in their application," she said.
Councilwoman Marianne Miles, however, was not opposed to the larger sign.
"This is Southern Blvd., and this is where we want our businesses to be," she said. "I don't see an issue with increasing the sign to where it can be seen. I would like to see businesses thrive and prosper once they are here in Loxahatchee Groves."
Town planning consultant Jim Fleischmann said that there are five criteria for sign variances, and the applicant gave a justification for each. While public comment was against the larger sign, Fleischmann said that the fact the business directly fronts on Southern Blvd. should be taken into account.
"Southern Blvd. has a different character than the rest of the town," he said. "It is my opinion that the sign code needs to be adjusted to be more reflective of that character."
Sabol said that other variances that have been approved for the businesses nearby are no different than what AutoZone is asking for. "I don't think it would be fair to allow half the plaza to have the signs they are asking for," she said.
While several council members said they would support a smaller variance, they decided that the 74-square-foot sign requested was too large. A motion to deny the variance passed 4-1 with Miles dissenting.
Representatives of the Culver's Restaurant planned for Groves Town Center in the pod just east of the existing Aldi store requested a variance to allow a second wall sign facing B Road of just under 30 square feet, and a larger menu board sign of 24 square feet, while the code allows 12 square feet. Like with the AutoZone sign, the Planning & Zoning Board, as well as town staff, supported the request.
Fleischmann said that the request noted that the smaller menu board would make it harder to view menu items and increase wait time at the drive-through. He agreed that 12 square feet is an unworkable menu board sign. Variances for larger signs were given to Dunkin' Donuts and Wendy's in the plaza just to the west.
The council did not support the second wall sign. Mayor Robert Shorr made a motion to reject the second sign, since it was not a corner lot and was, therefore, not entitled to a second sign. That motion passed 3-2.
While several council members said they would approve a menu board at 23 square feet, the same as the nearby Wendy's restaurant, the 24-square-foot sign was rejected 4-1.
As for Southern Lawn Equipment, the company requested site plan approval for a new building on the currently vacant 6.5-acre site known as Valencia Village, located on the north side of Southern Blvd. between D Road and E Road.
The site was approved for 28,400 square feet of commercial use across three buildings back in 2015. The current site plan would allow 28,000 square feet in two buildings: a 22,800-square-foot building for warehouse and repair services, and a 5,200-square-foot retail store.
Town staff, as well as the Planning & Zoning Board, supported the proposed site plan.
James Hackett with H&L Consultants spoke on behalf of the applicant. He noted that Southern Lawn Equipment is an existing business located further east on Southern Blvd. near Sansbury's Way that is moving west to Loxahatchee Groves.
The company has had discussions with nearby neighbors and included a large landscape buffer for the neighbors to the north. A hedge has already been planted, Hackett said. An easement for a multi-purpose trail is included.
Shorr asked if the trail be put on a raised berm at the back of the property. Eric Garoutte, one of the owners, said that would eliminate the hedge for the neighbors on the north end.
The site does not have direct access off Southern, and visitors to the site will enter and exit on Loxahatchee Avenue, via Southern Blvd. The buildings themselves will be nearly 200 feet off Southern Blvd.
Shorr wanted clarifications to the exit locations. He feels people will try to exit to Orange Avenue, rather than back to Loxahatchee Avenue.
"Our studies show that most of our traffic will come and go from Southern via Loxahatchee Avenue," Hackett said.
Vice Mayor Laura Danowski was impressed by the presentation.
"I love everything that you've presented," she said. "You clearly get who we are and what we are. I love the fact that you visited and talked to all the residents along Tangerine."
She asked if there is anything that can be done to keep Loxahatchee Avenue from becoming a cut-through, now that it will be partially paved. A right-turn-only sign was suggested.
Shorr requested several changes to the site plan to help with drainage issues in the area.
"We need to protect those residents," he said. "It may cost you a little bit, but I feel it is something you should consider. I'm not trying to slow down this project. I'm just trying to get everything we can for the residents."
Hackett noted that because of a large easement on the property, the owners are very limited about what can be done there.
Maniglia made a motion to approve the site plan as presented, which passed 4-1 with Shorr dissenting.