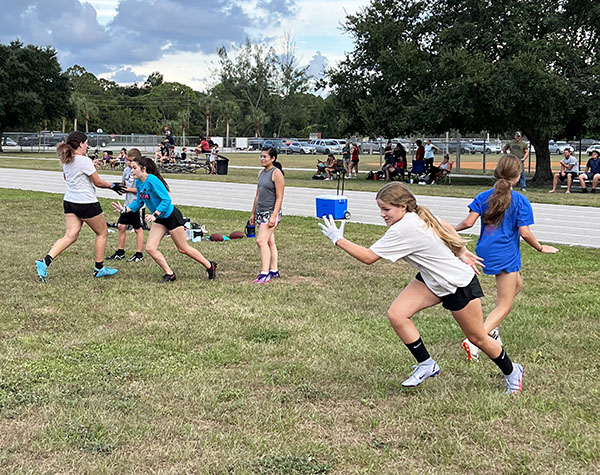 The new Breakthru Athletic League, produced with the support of NFL Flag Football, is getting ready for the opening day of its inaugural season serving young residents living in the western communities.
On Saturday, Sept. 10, the Breakthru Athletic League will hold its opening day celebration at Seminole Ridge High School. Festivities will include a number of competitive flag football games, which will start at 8 a.m. Those morning games will be preceded by the national anthem, sung by Heather Duran.
At 11 a.m., a special opening ceremony will be held, which will include remarks from Samantha Harris, the president of the girls flag football division, and Bill Basso, the president of the boys flag football division.
Harris and Basso will provide an update on the state of the league and recognize the league's sponsors, followed by a special performance by the Seminole Ridge High School marching band.
There will be concessions available throughout the day, and photos of the day's festivities will be taken by Allyson Goolsby Photography.
"It is going to be a great day with a ton of fun and exciting flag football games on the field," said Harris and Basso, in a joint statement. "The Breakthru Athletic League began as an idea and a plan to elevate the sport of flag football in the western communities by growing the opportunity for all to participate in a great sport that is continuing to gain popularity nationwide."
The Breakthru Athletic League is partnering with the NFL Flag Football organization, which has helped it get off to a strong start. In all, more than 275 participants are registered in its boys and girls leagues.
"While we are already working hard to begin this season with a bang, we are also working hard behind the scenes on our future plans," Harris and Basso added. "We are pleased to announce that the Breakthru Athletic League will be offering a spring season in 2023 with the expectation of growing participation."
For those who want to play more flag football, there are plans to add an official travel flag football league to the overall program.
"The future is bright, and we hope that we can continue to grow and provide more and more opportunities for flag football in our communities," Harris said.
For the latest updates on the Breakthru Athletic League, visit www.breakthruathleticleague.com.