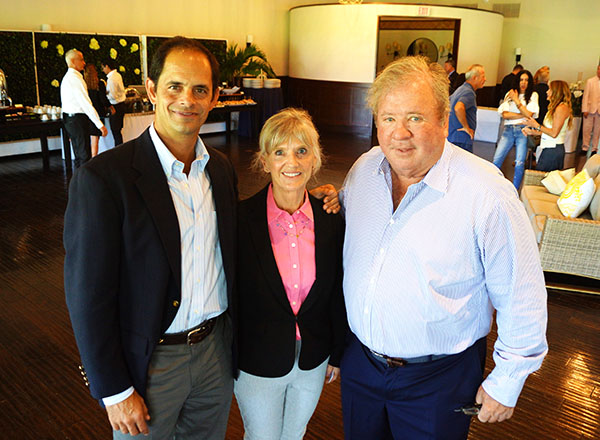 By Melanie Kopacz
The National Polo Center-Wellington (NPC) is ready to take center stage for world-class polo. And the team behind the newly rebranded club took center stage at a Wellington Chamber of Commerce luncheon Thursday, Oct. 6.
While the upcoming winter season is still two months away, polo fans don't have to wait that long to see their favorite stars in action.
For only the second time in 24 years, and for the very first time in Palm Beach County, the United States will host the XII Federation of International Polo (FIP) World Polo Championship from Oct. 29 through Nov. 6 at NPC.
The international competition is compared to that of soccer's World Cup, bringing the best polo players from all over the world. Eight countries, 200 horses, 32 players, 16 games and one champion. Those countries include Argentina, Australia, Italy, Mexico, Pakistan, Spain, the United States and Uruguay.
It's events like this that NPC, formerly known as the International Polo Club Palm Beach before it was purchased by the United States Polo Association earlier this year, plans to bring to the grounds to inspire camaraderie, community and excellence in the sport of polo.
"We are here to bring it to a high level of hospitality. To see the poetic expression of the drama we see in the athleticism of polo. There are so many ways to watch polo," said U.S. Open Champion Tim Gannon, co-founder of Outback Steakhouse, who led his team in being the first ever to hold five U.S. Open titles.
He now serves as chairman of the board of the newly formed USPA subsidiary, with the goal to revitalize the social club and hospitality services for all to enjoy.
Along with Gannon at the helm, is Carlucho Arellano, a Wellington native and lifelong polo player, who's now executive director of services at the USPA. The two spoke to community leaders and members of the sold-out chamber luncheon, sponsored by Joe DiMaggio Children's Health Specialty Center Wellington, to showcase the future vision for NPC.
"What we want to do is provide for excellence and host our biggest national tournaments here, and really open it up to the entire country, because there are 205 clubs, and those 5,000 members have an opportunity that if they make it to the finals or semifinals of a national tournament, that they would potentially be playing that in Wellington, here," Arellano said.
He calls this a level of excellence as only seen in Argentina, with a big focus on the "Sunday Field" concept first presented by USPA Chairman Stewart Armstrong, as an opportunity to grow the sport and success of future players.
"We want to build the importance around a National Polo Center, which is a first for the USPA," Arellano said. "The idea is to expand, and this will be the primary National Polo Center."
If the idea takes off, there could be other NPC locations in the future. "We hope to expand to a west coast NPC, maybe somewhere in the center of the United States," Arellano said. "But this would be primary — that's down the road."
The USPA's premier event, the Gauntlet of Polo, takes place from February to April each winter season, which will be held once again in Wellington in 2023. A wide variety of events also include youth and women's competitions.
"The spectators, the families. It's a family sport. An exhilarating sport to watch. It brings people from all over the world," said Gannon, who reflected on the early days of polo in Wellington more than 30 years ago, when then Prince Charles played here. He also looked back at his own stellar career with enthusiasm and how much polo means to him. "It's an exhilarating sport! There's nothing like it."
And for a sport that was once in a state of limbo, he vows that it is here to stay.
That is something that Wellington Mayor Anne Gerwig calls reassuring.
"If you notice, polo always gets pushed out," Gerwig said, referring to other places around the United States. "It's a sigh of relief that we're not going to lose that open space."
With permanence also comes an economic boost.
"Very few polo players have a place they call home, and polo players now say they're going to want to bring their families, their horses and buy farms," Arellano said. "They know that polo is no longer in a state of limbo. It's now a place of permanence."
A permanence that helps to build the polo community, along with amenities to be enjoyed that were included in the USPA purchase of the property. That's 161 acres, which includes fields 1 through 5, the grandstand, the pavilion, the Mallet Grille, the Seventh Chukker, the USPA Clubhouse shop, the Outback Field, the Outback facility, and the IPC social club and its facilities, including its swimming pool, gym and tennis courts.
"This is going to be our home," Gannon said. "Polo is about family. It's about friendship."
Friendship through a centuries-old sport steeped in history, with a bright future ahead of games to be played and new stories to be had for generations to come at NPC-Wellington.
The National Polo Center-Wellington is located at 3667 120th Avenue South in Wellington. For more information, visit www.nationalpolocenter.com.
Tickets are still available for the XII FIP World Polo Championship from Oct. 29 to Nov. 6. General admission tickets start at $20. The opening ceremony on Saturday, Oct. 29 will feature Team USA versus Australia.
Learn more, and buy tickets, at www.uspolo.org.