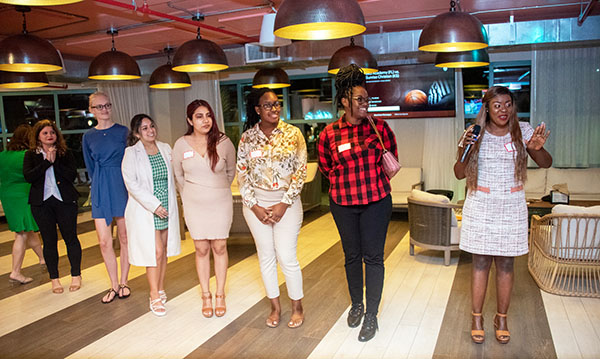 Empowerment of the next generation of women leaders was built this year with mentorship, scholarships, and even hammers and nails. On Wednesday, Oct. 25, the Executive Women of the Palm Beaches Foundation (EWPBF) will celebrate the people and programs that have embodied its mission of empowerment at its Fall Foundation Luncheon, which takes place from noon to 1:30 p.m. at the West Palm Beach Marriott (1001 Okeechobee Blvd.). It is open to the public.
Featured speakers include Barbara Stark, executive director of the Milagro Center and recipient of the 2021-22 Lois Kwasman Community Outreach Grant. She'll share how teenage girls embrace non-traditional career options through its program, Girls Go Build.
The Milagro Center received a $5,000 grant last year from EWPBF's Lois Kwasman Program for Community Impact, which helped it to continue its Girls Go Build program. The grants change the lives of children, teens and young adult women. In the program, the hammer in the hands of the teenage girls drives home the point that non-traditional careers such as engineering and construction are within their reach.
In addition, guests will hear from Dr. Debra A. Schwinn, president of Palm Beach Atlantic University, and representatives of other area colleges where young women further their education with scholarships from EWPBF. The Fall Foundation Luncheon was made possible with support from Palm Beach Atlantic University, Keiser College, and A-1 Moving and Storage.
The event kicks off a year of celebration as EWPBF marks its 40th anniversary. Since its founding in 1982, EWPBF has awarded more than $900,000 in grants and scholarships.
"Our mission is empowering women to succeed and lead, and the heart of our mission is the empowerment we share with the next generation of women leaders through our scholarships and grants," EWPBF President Katie Klause-Newitt said. "There's nothing like hearing first-hand how our work has impacted their lives, and we welcome the public to join us at our Fall Foundation Luncheon."
The luncheon is a fundraiser to support the Kwasman grants and annual scholarships. Tickets are $50 and are available on the events page at www.ewpb.org.