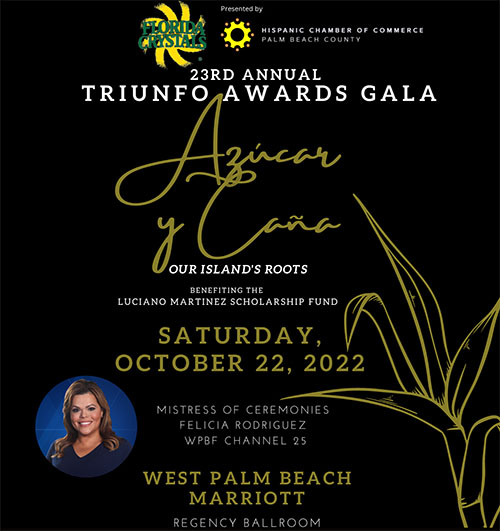 The Hispanic Chamber of Palm Beach County will host its 23rd annual Triunfo Awards Gala on Saturday, Oct. 22 at 6:30 p.m. The event will take place at the West Palm Beach Marriott in the Regency Ballroom. This year's theme is "Azúcar y Caña."
One of the main purposes of the Triunfo Gala is to raise scholarship money to assist Hispanic high school seniors achieve the dream of obtaining a college education. A call to the heart will be initiated during the Triunfo Gala to benefit the Luciano Martinez Scholarship Fund. Over the last two decades, the Hispanic Chamber has awarded thousands of scholarships totaling more than $160,000.
Event sponsors this year are: Florida Crystals Corporation (presenting sponsor); Baptist Health South Florida and the Joe DiMaggio Children's Hospital (gold sponsors); Wellington Regional Medical Center (bronze sponsor); WPBF Channel 25, Discover the Palm Beaches and Good Samaritan Medical Center (community sponsors); PNC Bank (business sponsor); and Searcy, Denney, Scarola, Barnhart & Shipley P.A. Attorneys (Amigos de Triunfo).
The 23rd annual Triunfo Gala will take place on Saturday, Oct. 22 at the West Palm Beach Marriott. The evening will begin at 6:30 p.m. Tickets are $160 per person. Amigos de Triunfo sponsorships are $1,000; a business sponsorship is $1,500; and a community sponsorship is $1,800.
For more information, and additional sponsorship details, call (561) 790-6200, e-mail info@cpbchamber.com or visit www.hispanicchamberpbc.com.
The not-for-profit Hispanic Chamber of Commerce of Palm Beach County is the gateway to connecting and growing business to the Hispanic community. The chamber assists businesses in reaching the growing Hispanic market in Palm Beach County and is the voice of the Hispanic business community in the Palm Beaches.
The chamber supports educational activities, advocacy, and works closely with the Hispanic community supporting the advancement, education and economic growth of the Hispanic community in general.