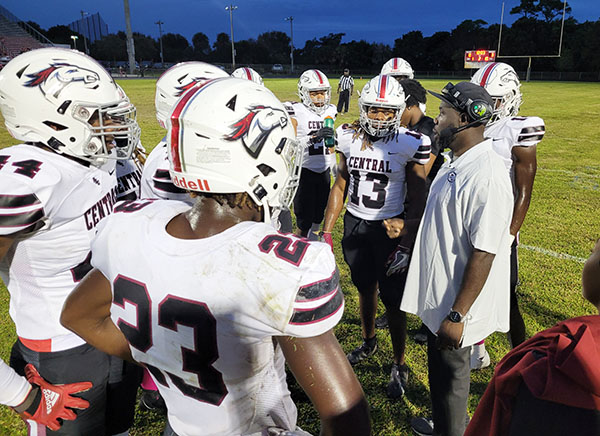 The King's Academy Lions and the Palm Beach Central High School Broncos are two of the hottest high school football teams in Palm Beach County. Meanwhile, the Wellington High School Wolverines are finding their groove, and the Seminole Ridge High School Hawks have lost some of their early momentum.
Post-season opportunities are a strong possibility for the Lions, Broncos, Wolverines and Hawks. The Royal Palm Beach High School Wildcats and the Berean Christian School Bulldogs have finally tasted victory and are hopeful of strong finishes to their regular season.
Since losing its lone game to Pahokee back in mid-September, Palm Beach Central (6-1) has won three consecutive games. The two most recent wins were a 34-13 victory against Boca Raton High School on Oct. 7, followed by a 45-6 win at Forest Hill High School on Oct. 13.
Against Boca Raton, senior quarterback Ahmad Haston accounted for 280 yards of total offense, while senior outside linebacker Devin Wygant had 11 tackles and two turnovers.
The win against Forest Hill was Palm Beach Central's second district victory.
"I am always happy for a win," Palm Beach Central head coach Kevin Thompson said. "The offense started kind of sluggish but picked it up in the second half. The defense was solid and held it down this week."
The Broncos will conclude their regular season with three straight home games against Palm Beach Gardens (Oct. 21), Wellington (Oct. 28) and Miami Carol City (Nov. 4). The biggest of those games will be the match-up against Wellington. That game will determine the winner of the district title. Both Palm Beach Central and Wellington are 2-0 in district play.
The TKA Lions (6-1) also have just one loss on the season, a 14-7 loss to Glades Central High School back on Sept. 1. Since that defeat, TKA has won five straight games. The two most recent wins were a pair of shutouts — a 44-0 victory against Pope John Paul II Academy on Oct. 7 and a 48-0 victory against Suncoast High School on Oct. 14.
In the win against Pope John Paul II, TKA head football coach Ben McEnroe said that every player on the roster received playing time.
"This is significant because, without a JV team this season, a large number of freshmen are getting valuable time against varsity starters, and every player on our roster has played and will earn a varsity letter," McEnroe said.
McEnroe is optimistic that there should not be depth issues for TKA's football program in the next few years. "We have approximately 90 players in our middle school program in 2022," McEnroe said.
The win against Suncoast evened TKA's district record at 1-1. The biggest game of the regular season will be on Oct. 28 when the Lions travel to Riviera Beach to play Inlet Grove High School, which is in first place in the district with a 2-0 record.
In the meantime, the Lions will be chasing their seventh regular season win this fall when they host Miami's True North Classical Academy on Friday, Oct. 21.
The Wellington Wolverines (4-3) are beginning to hit their stride. After opening the season with two losses in their first three games, the Wolverines have responded with three victories in their last four games. Two of those victories were a pair of key district wins: a 34-7 victory against Forest Hill on Oct. 3, and a 43-0 shutout against John I. Leonard on Oct. 14.
After the John I. Leonard game, Wellington head coach Danny Mendoza praised his players for their most complete effort of the season. "It was a full team effort," he said. "We are playing for each other, and we're communicating well on the field."
While Wellington will not overlook its upcoming Senior Night game at home against Palm Beach Lakes High School on Friday, Oct. 21, the Wolverines have probably circled Friday, Oct. 28 on their schedule, when they visit cross-town rival Palm Beach Central. The winner of that game will capture the district title, thus guaranteeing a bid in the Florida High School Athletic Association's Class 4M state single-elimination tournament. The winner of the game also gets custody of the much-coveted Wellington Cup.
Under new head coach Chad Chieffalo, the Seminole Ridge Hawks (4-3) opened the season with a sparkling 4-0 record. Since then, the Hawks have stumbled with three straight losses. In their close 10-7 loss to Boynton Beach High School on Oct. 7, the Hawks were leading 7-0 after three quarters, but were unable to keep the Tigers at bay during the fourth quarter. In their 28-0 loss at Atlantic High School on Oct. 13, the Hawks only trailed 7-0 at halftime, and by two touchdowns (14-0) after three quarters.
The Hawks conclude their regular season with one road game and two home games: at Park Vista High School on Friday, Oct. 21; at home against William T. Dwyer in a key district matchup on Friday, Oct. 28; and at home against Wellington on Friday, Nov. 4. All games will begin at 6:30 p.m.
The Royal Palm Beach Wildcats are working on securing their second win this season. The first victory was a 17-14 game against Lake Worth High School on Friday, Oct. 7. On Thursday, Oct. 13, the team traveled to play Palm Beach Gardens High School. Gardens won big, 45-0. Then, on Tuesday, Oct. 18, the Wildcats hosted the Chiefs from Santaluces High School (6-0), one of Palm Beach County's top teams. The Hawks (1-7) were outscored by the Chiefs, 41-0.
Royal Palm Beach head coach Chuck Kenyon is seeing real progress for his team, despite the losing record.
"We are starting to realize how to play the game," Kenyon said. "We just need to put it all together across the board. We keep having breakdowns here and there, which really hurts us. When we put it all together, we will be fine."
The Berean Bulldogs (1-6) are also in hot pursuit of their second victory. After defeating Miami Country Day School 14-10 on Saturday, Oct. 1, the Bulldogs lost to Miami's Archbishop Carroll, 47-0. Berean closed out its eight-game regular season on Thursday, Oct. 20 against Pompano Beach High School, but the result was not available at press time.