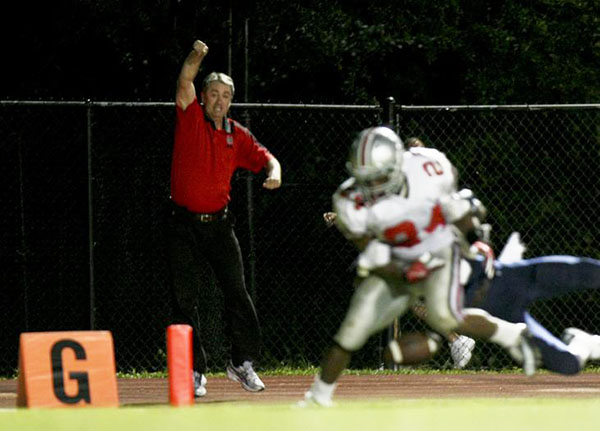 For the first time in 16 years, there's a "new sheriff" overseeing athletic programs at Seminole Ridge High School. Since 2006, Scott Parks has been a fixture as the school's athletic director, but he gave up the position at the end of the last school year.
Parks decided it was time to return to the classroom. Beginning in August, he started teaching work experience classes at SRHS. To remain connected to the athletic program, he's also coaching the bowling team this year.
Getting hired as the school's athletic director was a matter of timing for Parks. He was simply in the right place at the right time.
He started working at the school as a teacher and cross-country coach in 2005. In July 2006, then Seminole Ridge head football coach Matt Dickmann told Parks that the athletic director's job had just come open.
"As almost an afterthought, I sent an e-mail to Principal Lynne McGee that I would be interested in the position, and that I could talk to her in a week or so when I got back from vacation," Parks recalled. "She replied to say that if I was interested, I had to be there the following Monday for an interview. So, I drove back from my vacation to do the interview, and the rest is history."
With a master's degree in sports management from Iowa State University, Parks felt like he was equipped to do the job. That wasn't really the case.
"I didn't know what I was getting into, but the assistant principal at the time, Jesús Armas, assured me that he was just down the hall and that he could help with anything I needed," Parks added. "Unfortunately, a few days later, he was offered a principal's job at another school. The first year was extremely difficult, but once you settle into a routine, it's not too bad, albeit long hours."
Whether it was staying late on a Friday following a home football game, arriving early on campus on a Saturday morning to make sure everything is in order for a boys home basketball double-header, or staying late on a weeknight to make sure a uniform order is submitted, Parks was always there. He was often the first to arrive and the last to leave a Seminole Ridge athletic event.
There was never a job too big or small for Parks. If necessary, he was as comfortable selling tickets at a junior-varsity girls soccer game on a Wednesday night in January as he was overseeing the festivities during halftime of a homecoming football game in October. And he was always wearing his Seminole Ridge polo shirt.
"I always planned my daily attire based on what we had going on that day," Parks added. "I always wanted to have that polo shirt on if we had any games, or even any type of meeting or event during the school day. When I was hired, Dr. McGee told me she wanted the athletic director to always wear long pants and look professional. So, even on 95-degree days, I always have slacks on."
He was also probably Seminole Ridge's biggest fan.
"I really, truly live and die with every play, and remain Seminole Ridge's biggest fan," Parks said. "Oftentimes, how good a weekend I would have in the fall was dependent on how we did on Friday night. I always say, the perfect football weekend is when Seminole Ridge, Eastern Michigan, Iowa State and the Detroit Lions all win. I'm not sure I've ever hit all four in the same weekend."
The job has left him with profound memories.
"The 2010-11 school year was probably the biggest highlight," Parks recalled. "The football team reached the state's elite-eight, and we had state championships in boys volleyball and boys weightlifting, plus we had three individual state champions that year — two in boys weightlifting and one in girls track — and that was coming off a state championship in girls flag football in the spring of 2010."
Being athletic director is not a job for everyone, as there are things to do in the morning, afternoon and night.
"On a typical day, I would arrive around 7:15 a.m.," Parks said. "I always arrived with a to-do list, but I had to be flexible, because you might have several crises to deal with and never even get to your to-do list. But, in general, the No. 1 priority each day was re-confirming what we have going on that night, making sure we have transportation for away games, and making sure for home games that we have referees, and the opposing team is confirmed. After school, I made sure to get around to all the practices on campus, to see that everything is running smoothly. Then in the evenings, depending on what is happening on campus that night, I was here until 9 or 10 p.m. several days a week, during the busiest times of the year. The hardest part would be getting home after everyone else in the house is asleep, then getting back up in the morning and leaving before everyone else is awake."
As busy as he was throughout the year, there were moments when Parks could relax.
"The biggest down time is summer," Parks said. "There is conditioning going on for several of the fall sports, but, generally, it is pretty slow. Winter break and spring break are slower times, but even with those, there are tournaments going on."
The coaches at Seminole Ridge didn't take for granted that they had an athletic director who was always there to support them and their athletes.
"The strength of Scott Parks is reliability and his passion to support Seminole Ridge High School," said former head football coach Rick Casko, who retired earlier this year. "If it needed to get done, Scott Parks would make sure it got done. He would also drive the bus whenever teams needed a bus driver."
"I am going to miss him. He's a one of a kind," said current Seminole Ridge head girls basketball coach Maria Hudson. "He knew what we needed. Every year, he made my job easier."
"Mr. Parks did a tremendous job as our athletic director," added Scott O'Hara, the head coach of the girls varsity volleyball and flag football teams. "He was incredibly dedicated and truly cared about all the student-athletes and coaches he represented."
Parks was also known to take off his AD hat and step on the field as an assistant coach from time to time. This past spring, he was an assistant coach of the girls softball team, which was led by head coach Candace Horton.
Another individual who enjoyed working with Parks is Yetta Greene, the athletic specialist for the Palm Beach County School District. Greene worked with Parks to make sure every game for every team had a full complement of referees and game officials.
"Scott was a great athletic director who served his school well," Greene said. "He was on top of things, and he got things done when things needed to be accomplished. I will miss working with him."
Looking back on his 16 years as the athletic director, Parks is proud of the fact that he didn't let details slip through the cracks.
"Making sure our eligibility paperwork was in order was always a high priority," he said. "I am very proud that never once in my tenure did we have any sanctions or probation by the Florida High School Athletic Association for any eligibility situations."
One of Parks' peers is going to miss working alongside him.
"Scott Parks was a pleasure to work with, especially as the AD of a rival school," said Eric Patterson, the athletic director at Royal Palm Beach High School. "Scott was always there for advice, able to answer questions if need be, and an easy person to collaborate with."
As Parks moves forward in life, he's not taking a complete break from athletics.
"This fall, I signed up with the East Coast Football Officials Association as a clock operator to keep myself busy a few nights a week, mostly working JV football games, but a few Friday night varsity games as well," Parks said. "I'm not allowed to work as an FHSAA official at Seminole Ridge games, since I work there."
While Parks left big shoes to fill, he's confident that Seminole Ridge's athletic program remains in good hands.
"My successor is Karen Bottiglieri," Parks said. "She came from Western Pines Middle School. She is working hard and doing a good job."