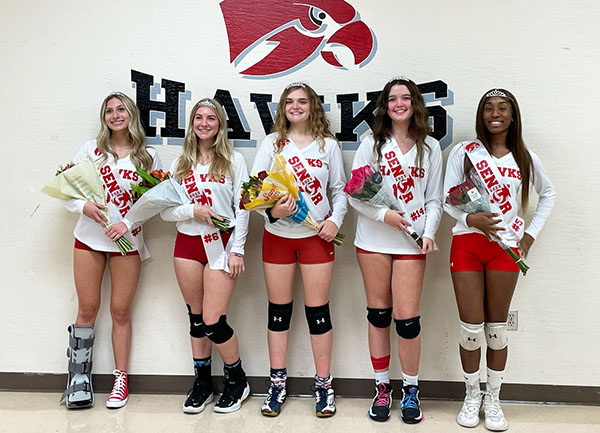 The Seminole Ridge High School girls varsity volleyball team is trending in the right direction. After opening the season in August with a pair of losses, the squad has rallied and won four out of their last five games.
The most recent victory was a big, come-from-behind, senior night win against Glades Day School on Monday, Oct. 3. The Hawks won in a comeback after dropping the first two sets. They rallied to a victory by winning the last three sets, 26-24, 25-20 and 15-7. Seminole Ridge's record now stands at 8-5.
Seminole Ridge girls volleyball head coach Scott O'Hara is thrilled with how his team has been able to put aside the adversity of a rough start and rally with a series of victories in recent weeks.
"I have a very hardworking Seminole Ridge varsity volleyball team of 14 great players who believe in each other and have terrific chemistry together on the court," O'Hara said. "They love to practice and compete, and they are playing their best volleyball at the right time of the season."
While O'Hara is the head coach, he's quick to point out that his three assistant coaches have contributed a great deal to the success of the team.
"I have three outstanding assistant coaches — Amber St. Clair, Candace Navarro and Todd Williams — who do a tremendous job with each of our teams and make my job so rewarding," Ohara said.
O'Hara is also quick to note that the contributions of his five seniors have been an integral part of the team's winning record. Those five seniors are Aubrey Davis, Leah Lobeck, Jamilynn Vernati, Marlene Maurisset and Camryn Sessions, who served as the team captain.
Davis displayed quite a bit of courage during the senior night game. She was able to play, despite having a boot on her right leg.
According to O'Hara, she was able to participate in the match by being able to successfully serve.
"She continuously served in that spot and was then substituted for," O'Hara explained.
The Hawks conclude their regular season with three matches in as many days — Oct. 10 at Wellington High School, Oct. 11 at Jupiter Christian School and Oct. 12 at home against Jupiter High School.
After that, the team begins post-season play in the Class 6A, District 13 tournament during the week of Oct. 17.
If they continue playing well, they will have a good chance of making a deep post-season run in the Florida High School Athletic Association's Class 6A tournament.