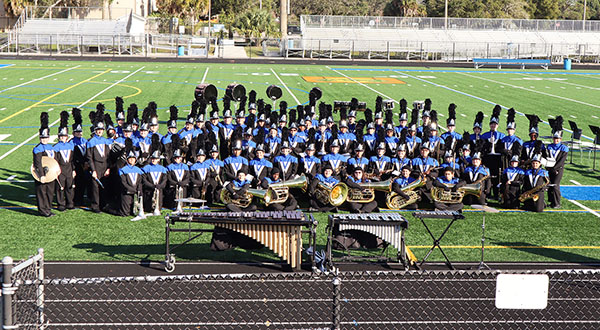 Wellington High School's award-winning Mighty Wolverine Sound marching band will travel internationally to perform live on Sunday, Jan. 1, 2023, at London's New Year's Day Parade and Festival. The Wolverine Band Booster Association (WBBA) is asking the community's support to help raise $50,000 to offset the costs of the trip.
More than 650,000 people line the streets of Westminster to watch this famous parade in its 37th year, and an estimated 500 million tune in to the worldwide live screening through television broadcasts and online streaming. Wellington High School's superior-rated marching band will join more than 10,000 participants who gather from 28 countries around the world to perform each year. Approximately 75 Wellington High School band members will gear up for the cold holiday weather in London to perform live before millions in this international parade.
"The marching band is extremely honored to be invited to perform in this worldwide holiday parade," explained WBBA's volunteer president and band parent Greg Wunsch.
London's New Year's Day Parade and Festival founder and chairman Bob Bone and former Lord Mayor of Westminster Duncan Sandys traveled from the United Kingdom to officially invite the band in person. The marching band was initially invited to perform on New Year's Day 2021 and again for 2022, with both trips not possible due to the pandemic. "We hope this third time's a charm," Wunsch said. "Band members have waited a while for this opportunity!"
The Mighty Wolverine Sound is one of only 20 marching bands from the U.S. invited to the 2023 parade. Bone and Sandys, Sir Winston Churchill's great-grandson, brought a camera crew on the trip to Wellington High School last December to pre-record cut-ins featuring the band for the parade's 2022 live stream and broadcast. The Mighty Wolverine Sound was introduced as an upcoming 2023 parade performer during the Jan. 1 worldwide broadcast carried on PBS television stations locally in Palm Beach County and across the U.S.
The WBBA's goal is to raise up to $50,000 in financial support for this once-in-a-lifetime international trip with help from the community. Funds raised will offset large costs for band members themselves. Band members are active in leading their own fundraisers throughout the school year to support their efforts.
WBBA's volunteer board of directors is committed to enlisting the help of the community with fundraising and additional specialized cost items through in-kind donations, such as uniform extras for London's January temperatures. WBBA fundraising co-chair and band parent Michelle De Armas highlights launching a fundraising campaign with the band in August.
"Band students, parents, booster volunteers and the board — we're all concentrating on fundraising for this amazing trip in a short amount of time," De Armas said. "We're asking for our community's help for this monumental event, the first of its kind for Wellington High School, our Village of Wellington hometown and all of Palm Beach County."
Wunsch explained that donations for this important effort are investments in the community's youth. "A trip like this is a once-in-a-lifetime for music students and provides higher-level, hands-on experience and an invaluable connection to the world," he said.
Wellington High School's band program is led by Director of Bands Mary S. Oser. The school's principal is Cara Hayden. The WBBA is a nonprofit organization that raises funds to support the Wellington High School band programs and asks the community to join in collaborative efforts to raise funds for this group of local Palm Beach County music students and enlist the community's help with in-kind donations for special uniform extras.
For direct donations, visit the WBBA's public GoFundMe page at https://gofund.me/eb7344e2. For in-kind or financial donations, e-mail ways_and_means@whsband.com.