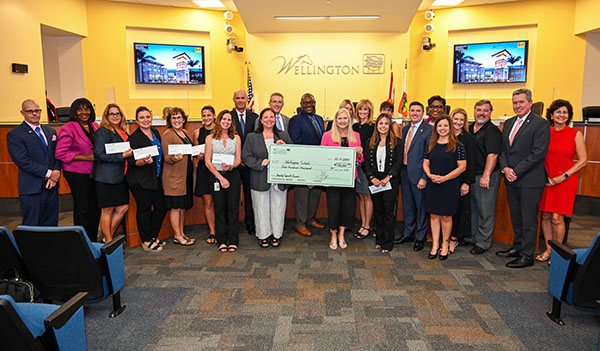 There was a celebratory atmosphere Tuesday, Oct. 11 when the Wellington Village Council welcomed the principals from area schools for the presentation of the annual Keely Spinelli Grant awards.
The Keely Spinelli Grant provides nearly $400,000 to be divided among Wellington's 11 schools — Binks Forest Elementary School, Elbridge Gale Elementary School, Equestrian Trails Elementary School, New Horizons Elementary School, Panther Run Elementary School, Wellington Elementary School, Polo Park Middle School, Emerald Cove Middle School, Wellington Landings Middle School, Palm Beach Central High School and Wellington High School.
The money comes from the Community Services Department budget and is designed to help village schools support lower-performing students.
The grant began more than two decades ago and was designed to provide direct assistance to struggling readers and math students. It was later expanded and named after late Binks Forest Elementary School Principal Keely Spinelli. It has awarded more than $3 million to the schools since its inception.
In a video presented to the council, four principals spoke about the grant.
"The Keely Spinelli Grant means the world to us," said Michella Levy, the current principal at Binks Forest. "Because of this grant, we were able to increase our reading gains almost by 20 percent and our math gains by 18 percent."
Principal Dana Pallaria of New Horizons said the grant brings "equity" at the school, while Principal Lindsay Ingersoll of Wellington Landings said the grant changes lives for her, the students, the staff and the community.
Principal Darren Edgecomb of Palm Beach Central explained that the grant allows for additional focus on the students most in need.
Students rating in the lowest 25th percentile, Levy explained, are able to be provided with tutoring. Pallaria's school also offers tutoring, as well as additional educational programing through more computers and iPad STEM programming. Supplemental technologies, classroom libraries and tutoring are provided at Wellington Landings, Ingersoll said. At Palm Beach Central, the grant provides tutoring before and after school, as well as during the weekend, and students are provided with incentives based upon their performance.
Last year at New Horizons, Pallaria said, math learning gains increased by 10 percent throughout the school, and the students in the lowest 25th percentile improved from 38 percent proficient to 67 percent proficient.
"We have so many success stories due to the Keely Spinelli funding," Ingersoll said. "Two years ago, our students had major gains in our English language arts… 72 percent of our students that we target through the Keely Spinelli Grant made more than two years of growth in one year."
Superintendent Michael Burke and School Board Member Marcia Andrews attended the meeting to thank the village for the grant funding.
"I can't say enough great things about this partnership," Burke said, adding that West Palm Beach is interested in creating a similar program.
Andrews personally knew and worked with Spinelli, she said, and received the grant when she was the principal at Polo Park.
"You are always looking at ways to improve our children, to make sure they all are successful," she said, calling Wellington a role model for schools across the county and state.
Mayor Anne Gerwig pointed out that each school will receive $36,363 — and does a great deal with the funding.
"Mr. Burke, I appreciate the partnership, but you guys did the work," she said. "This is a little commitment from us, and I just can't imagine what you guys have done with that and how proud we are of the alliance we have with you."