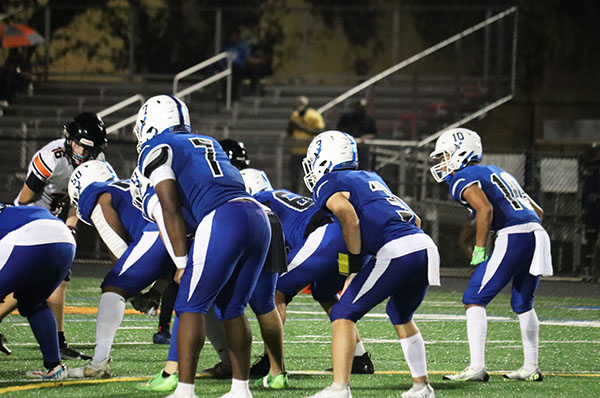 It was a happy homecoming this year for the Wellington High School football team — and especially for its senior quarterback, Ryan Anthony.
On Friday, Oct. 14, the Wolverines blanked the visiting Lancers from John I. Leonard High School, 42-0. Anthony led the way by completing six out of seven passes for 148 yards.
Two of those receptions were for touchdowns. Anthony ran for 43 yards in the game, which included a 10-yard touchdown run. Not only was it the fourth victory of the season for the Wolverines (4-3), but it was Wellington's second all-important district win of the season in as many games. That means the district champion will be decided on Friday, Oct. 28 when the Wolverines travel to crosstown rival Palm Beach Central High School.
Not only will first place in the district be up for grabs, but so will possession of the Wellington Cup. Right now, ownership of the cup is in the hands of Palm Beach Central, based on the Broncos' win last year at Wellington High School. Right now, both teams have identical 2-0 records in district play.
Against John I. Leonard (3-4), Wellington's offense took a cue from its defense. On Leonard's first offensive possession of the game, Wellington cornerback Zachary Favors picked off a pass from Leonard quarterback Jahtavious Gayle at the Lancers' 39 yard line. Three plays later, with 7:13 left in the first quarter, Anthony found teammate Elvick Previlma in the end zone for a 42-yard touchdown pass. Wellington led 7-0.
Wellington's defense stayed strong and forced a turnover on downs. Four plays later, Anthony ran around the right end from the 10 yard line and into the corner of the end zone. It was 14-0 at the end of the first quarter. With second quarter touchdowns by running back Garrens Catul Jr. on a five-yard run, and running back Matis Gibson on a three-yard touchdown reception, Wellington led 28-0 at halftime.
The Wolverines put the game out of reach at the 8:38 mark of the third quarter when Anthony threw a 30-yard touchdown pass to Vincent Soriero. Placekicker Andres Amaya's PAT put Wellington ahead, 35-0. It was a running clock for the rest of the game.
The Wolverines added one more touchdown when wide receiver Kevin Liriano scored on a 13-yard scamper in the final play of the third quarter.
Wellington head coach Danny Mendoza was delighted with the effort by his players in their 42-0 win. "It was a full team effort," Mendoza said. "Offensively, we finished drives. The defense was outstanding. We are playing for each other, and we're communicating well on the field."
On Friday, Oct. 21, it will be Senior Night for the Wolverines. The visitors will be Palm Beach Lakes High School (0-7). Kickoff is scheduled for 6:30 p.m.