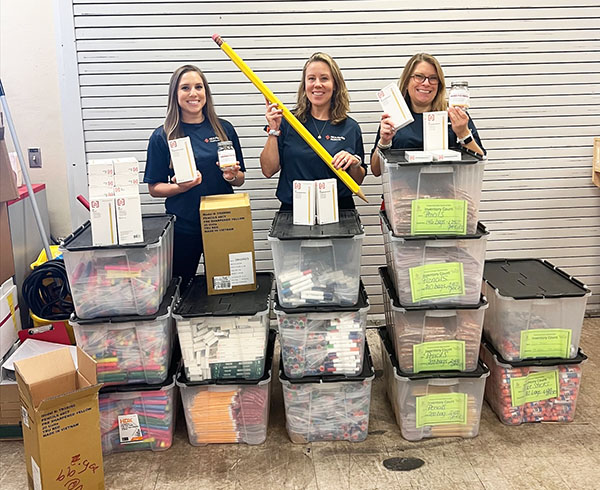 During HCA Healthcare's first "We Show Up for Our Communities" week to encourage its employees nationwide to engage in service activities, the staff at HCA Florida Palms West Hospital, along with colleagues at HCA Florida JFK and HCA Florida JFK North hospitals, collected donations that raised enough money to supply more than 10,000 pencils for the Education Foundation of Palm Beach County Red Apple Supplies store.
Red Apple Supplies enables teachers from Title I schools across the School District of Palm Beach County to shop for free school supplies for their classrooms.
"During an earlier community services event, some of the Palms West Hospital senior leadership team volunteered at Red Apple Supplies before the start of the school year and found that pencils were one of the hottest commodities on the teachers' lists," CEO Jason Kimbrell said. "I'm so proud to work with the caring and dedicated people at Palms West and our sister hospitals who generously support the students in our community who will become our future workforce."
In addition to purchasing the pencils, employees at the hospitals dedicated a day sorting the pencils, 1,276 glue sticks, 9,700 pens, 1,557 Post-it Notes, 1,012 dry-erase markers and 2,021 highlighters that were donated to the foundation.
The hospitals had previously collaborated before the start of the school year to collect more than a pallet of much-needed school supplies for Red Apple.
"Healing takes many forms," Education Foundation CEO James Gavrilos said. "Modern medicine wisely focuses on preventative steps. It's far better and preferable to prevent the disease from ever forming, rather than trying to cure a disease once it has taken root. No one knows this better than the professionals at HCA. And this is exactly what the partnership between the Education Foundation and HCA is all about."