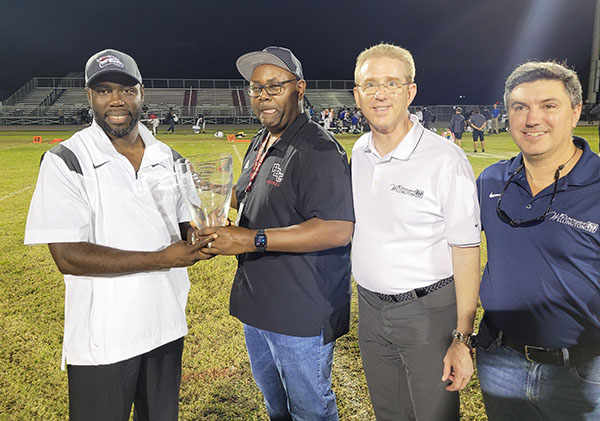 Palm Beach Central High School quarterback Ahmad Haston completed 11 of 22 passes for 229 yards and three touchdowns to lead the Broncos to a 41-14 victory against the Wellington High School Wolverines on Friday, Oct. 28 at Palm Beach Central.
With the victory, Palm Beach Central (8-1, 3-0) clinched the district championship and retained custody of the coveted Wellington Cup. In addition to Haston's passing, Palm Beach Central's defense grabbed three interceptions in the game, two of which were returned for touchdowns by free safety Justin Bostic.
During the scoreless first quarter, the visiting Wolverines had their best chance to score, but the Bronco defense stopped the Wolverines on a momentum-shifting fourth-down play. With the ball deep in Bronco territory, Wellington head coach Danny Mendoza told his offense to go for a first down, rather than settle for a field goal. On fourth-and-three, the 11th play of the drive, Wellington quarterback Ryan Anthony's pass fell incomplete, turning the ball over on downs.
Palm Beach Central eventually scored early in the second quarter. At the 9:33 mark, Haston connected with Britton Holmes Jr. on a 74-yard touchdown pass down the right sideline. The extra point attempt sailed left of the uprights, putting the Broncos ahead 6-0.
Wellington (5-4, 2-1) responded with another long drive of 12 plays, eventually settling for an unsuccessful 42-yard field goal attempt by kicker Andres Amaya.
On its next drive, Palm Beach Central scored another touchdown on a six-play, 80-yard drive, capped by a 58-yard touchdown pass from Haston to Luby Maurice Jr. The drive was kept alive on the fifth play when offensive guard Andres Torres fell on a fumble by Haston. The Broncos were successful with their two-point conversion attempt when Haston connected with Tyler Young, who was standing alone at the back of the end zone. Palm Beach Central led 14-0 at halftime.
On Palm Beach Central's opening drive of the second half, the Broncos were eventually forced to punt after a nine-play drive. At the 6:42 mark of the third quarter, during Wellington's first possession of the second half, Tony Williams intercepted a pass from Wellington's Anthony and returned it 15 yards for a touchdown, but the touchdown was overturned by a holding call.
Four plays later, at the 4:42 mark, Wellington regained possession of the ball when senior defensive back Wolali Ahlijah intercepted one of Haston's passes in the end zone. However, Wellington's offense was forced to punt.
At the 2:43 mark of the third quarter, Young sprinted 39 yards for Palm Beach Central's third touchdown. The successful kick extended the Broncos' lead to 21-0.
On the first play of the fourth quarter, Bostic had the first of his two pick sixes when he intercepted one of Anthony's passes and returned it 70 yards to paydirt to give the Broncos a 28-0 lead.
Wellington finally responded with its first touchdown of the game when Anthony scored on a one-yard touchdown with 8:48 left in the game, which capped a seven-play, 58-yard drive.
After forcing Palm Beach Central to punt, Wellington's offense took over at its own 40 yard line, but with 6:32 left in the game, Bostic intercepted another pass by Anthony and returned it 47 yards to the end zone, giving the Broncos a 35-7 lead.
In the game's final minutes, both teams scored one more touchdown to make the final score, 41-14. Anthony scored for the Wolverines on another one-yard run with 2:58 left to play. Javorian Wimberly, who's headed to Central Michigan next fall, notched Palm Beach Central's final score when he caught a 50-yard toss from Haston with 2:29 left in the game.
Palm Beach Central head coach Kevin Thompson was delighted with his team's winning Wellington Cup performance, which Palm Beach Central has not lost since 2016.
"We had a plan, and we executed our plays to a T," Thompson said. "After we stopped Wellington's wing-T offense, they had to pass."
Thompson was not surprised at the two pick sixes by Bostic and by the play of his defensive front.
"Bostic is the player who makes our defense work," Thompson added. "He also had two pick sixes in our game at Lakewood in early September. We have a defensive line that is awesome."
In the game, Palm Beach Central's defense limited Wellington's rushing attack to 116 yards on 41 attempts. Garrens Catul Jr. was Wellington's leading ball carrier with 53 yards on 13 carries. Anthony added 33 yards on 19 rushing attempts.
The Broncos closed out their regular season on Thursday, Nov. 3 when they hosted Miami's Carol City, while Wellington's regular season finale will be on Friday, Nov. 4 when the Wolverines will visit Seminole Ridge High School.
By clinching first place in the district, the Broncos are guaranteed to host a first-round playoff game, according to Palm Beach Central Athletic Director Travis Abel. As a district runner-up, Wellington is also hoping to secure a post-season bid from the Florida High School Athletic Association. The post-season berths for all area high school football teams will be released after the conclusion of the regular season.