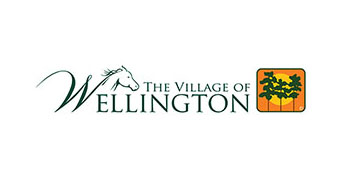 Wellington's Architectural Review Board granted two equestrian-related businesses exceptions from the village's sign code regarding window coverings at a meeting on Wednesday, Nov. 2.
Wellington's sign code forbids businesses from completely covering windows with signage or a color. The code was updated earlier this year to more strictly enforce the regulations.
While staff recommended requiring the two businesses in question to at least partially adhere to the code, the board's majority agreed that the unique circumstances of the businesses should let them keep the coverings.
Both businesses are located in Wellington's industrial/flex zoning area on Fairlane Farms Road, and both have mostly white window coverings providing UV protection. Equiline sells high-end saddles and other equestrian equipment, while CWD/Devoucoux Boutique sells equestrian equipment and apparel imported from France.
The owners of both businesses explained that the UV coating was needed to protect the high-end equestrian products from sunlight damage. Most board members agreed, allowing the existing window coverings to stay on 4-2 votes.
Also at the meeting, the board unanimously approved a redesign with new signage for the existing Dunkin' store at Wellington Plaza.
The change in elevation, colors and signage for the 10-year-old building is part of the company's national rebranding effort from Dunkin' Donuts to just Dunkin'.
In other business:
• At the start of the meeting, Board Member Stacey Somers was elected chair and Board Member Maria Raspanti was elected vice chair.
• The board unanimously approved a flat roof design for an equestrian estate on Grand Prix Drive after hearing a presentation from village staff and the site's architect. Currently five acres of vacant land in Equestrian Preserve Area, additional landscaping was added to shield the property from view.
All roofs in residential areas much include a pitch to them without special permission. The board has granted several approvals for flat roofs over the past year, particularly on larger lots in equestrian areas.
• At the request of a homeowner in the Tree Tops community, the board unanimously agreed to add an additional shade of blue to the village's official color board.
Also at the meeting, the board briefly discussed its overall color and materials board. Board members were distributed copies of the currently approved list for discussion and changes at a future meeting.