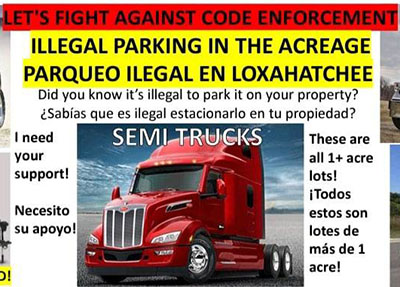 Big-rig drivers in The Acreage have a big problem: Lots of trucks and no place to legally park them, at least according to Palm Beach County code enforcement.
Fines can run to $1,000 per day, per vehicle for parking a semi at their residence.
"We feel like we're being ignored and pushed out of the community," said Acreage resident Natalia Melian, whose husband, Ricardo Alonso, makes his living on the road behind the wheel of a Kenworth tractor.
It's not only drivers of semi-tractors and their long trailers that are in danger of aggressive enforcement, said Melian, but also owners of dump trucks, smaller commercial vehicles, recreational vehicles, swamp buggies, airboats and more who often park them in their multi-acre yards.
That, said Melian, is why she and a group of neighbors living in the Indian Trail Improvement District have organized a protest at 4 p.m. on Monday, Dec. 19 outside the Palm Beach County Commission offices at 301 N. Olive Ave. in West Palm Beach.
Some 200 people attended a recent informational session regarding the issue held at the Acreage branch library. Melian said she's hoping for a good turnout Monday.
She insists that tractor-trailer rigs had been allowed for years in The Acreage, and that only changed in 2019 when the county revised the code.
County officials and developers "want to gentrify the area now that they've built Westlake," Melian said. "They want more communities that are in line with that."
Melian explained that the ability to park the rig in their yard was one of the main reasons they moved to The Acreage some 10 years ago. Now, with their two young children, they may have to move again, she said.
Recently elected District 6 County Commissioner Sara Baxter will not be present during the protest, her Chief of Staff Jon Carter said Wednesday. However, he said, Baxter intends to request from the commission a "zoning in progress" designation for this issue that would provide a moratorium on enforcement and fines for up to one year.
"It's a sensitive issue," Carter said. "We respect small businesses and understand that for many of these people, this is their livelihood."
Unincorporated areas near Loxahatchee, Boynton Beach and Jupiter are facing similar issues, and Carter said Baxter wants to use the moratorium to study the problem and develop "a wholistic approach for the entire county."
Under existing county code, residential storage/parking is allowed for one commercial vehicle — defined as registered and belonging to a resident of the property, and not exceeding 12,500 pounds and 26 feet in length. A tractor-trailer rig is often more than 60 feet long and weighs 80,000 pounds or more. Restrictions within municipalities vary.
ITID Vice President Betty Argue recently estimated that there are at least 150 big-rig drivers living in the area, which has seen an influx of both truckers and luxury homeowners since 2019. She emphasized that as an unincorporated part of the county, ITID has no authority in terms of planning and zoning or code enforcement.
Melian went before the ITID board at their Dec. 7 meeting to ask that the board issue a letter of support for the truckers similar to the one dated Dec. 4, 2019, and signed by Argue, then the board's president. The board seemed to agree but asked for time to review the situation before doing so.
The 2019 letter asks that two "commercial trucks" be allowed per property and appears to support the position of Melian and her group, reading in part:
"The board feels strongly that when the [Unified Land Development Code] was amended to restrict truck parking, rights were taken from every resident of the Indian Trail Improvement District… We do not want to alter our community to be more like the areas to the south and east of us… Unless a clear threat to public health, safety or welfare exists, we urge the county to take no action to enforce land use regulations or prosecute pending cases…"
The letter goes on to say that ITID seeks to work with the county to "restore the property rights of the citizens of Indian Trail" into the future or "until there is a decision regarding incorporation."
"If we were incorporated, the village would be making these decisions [about zoning and code enforcement]," newly elected Supervisor Elizabeth Accomando said Wednesday.
Accomando is a longtime proponent of holding a referendum on Acreage incorporation.
"Personally, I think if a trucker has been on the road, he comes home, he should have the right to bring his truck and park it on his property," she said. "But as it is, Indian Trail has no stake in this. No say."
It is not any easy issue, Argue said. "I support the lifestyles that have historically been in this community," she said. "But as many people as I've heard from [supporting the truckers], I've heard from about the impact on their dirt roads. It's a lose-lose situation for the district."