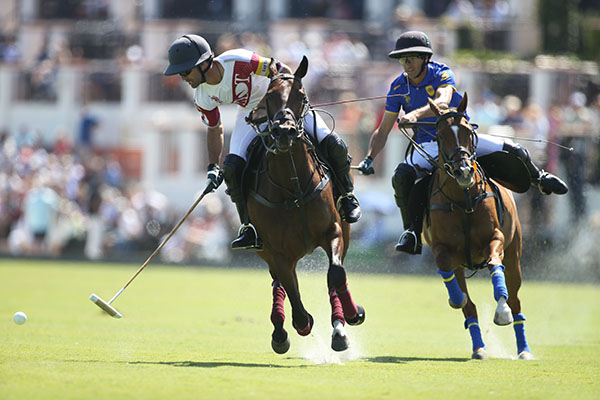 The United States Polo Association (USPA) and the National Polo Center-Wellington (NPC) will open the inaugural winter season at NPC on Sunday, Jan. 1.
The schedule is highlighted by the prestigious Gauntlet of Polo series, the new Florida Circuit 16-Goal Super-Series, the U.S. Open Women's Polo Championship and the historic international Westchester Cup.
The season will officially begin by ringing in the new year with the NPC Inaugural Cup Final and opening Sunday match on Jan. 1, 2023, and will conclude May 28, 2023. Tickets for Sunday brunch are available for purchase online at www.nationalpolocenter.com.
In 2023, select tournaments will be livestreamed at www.uspolo.org and via USPA social media channels, including YouTube, Facebook, Instagram, Twitter and Twitch. Visit www.uspolo.org for more information.
The 2023 Gauntlet of Polo will serve as the premier spectacle of the NPC season, beginning Feb. 12-26 with the C.V. Whitney Cup, continuing with the USPA Gold Cup from March 1-26 and concluding with the U.S. Open Polo Championship from March 29 through April 23. The prize money distribution for the 2023 season will follow last year's format, with $50,000 awarded to each of the winning teams of the C.V. Whitney Cup and USPA Gold Cup, and $100,000 presented to the winner of the U.S. Open Polo Championship.
In addition to the Gauntlet of Polo, the inaugural NPC winter season will offer an unparalleled polo experience for players of all ages and backgrounds. The debut USPA Junior Open Final (Feb. 19) will unite some of the most talented youth players in the country, while the Westchester Cup (March 31) will showcase another elite international competition in the Wellington area.
Also included in the schedule is the brand-new Florida Circuit 16-Goal Super-Series, which has generated significant interest among teams. Given the widespread attention that the super-series has garnered, the USPA is currently developing an iteration at the 8-goal level. The series would consist of four qualifying tournaments played January through April 2023, with the four winning teams playing a Super-Series Championship at NPC at the end of April.
NPC will also welcome additional matches and events from April 30 to May 28, expanding the opportunity for competitors of all experience levels to enjoy the prestige and thrill of playing on U.S. Polo Assn. Field One. More details on spring events will be available soon.
The National Polo Center-Wellington, previously known as the International Polo Club Palm Beach, is located in the heart of South Florida's legendary horse country. The perpetual home for polo in America, NPC is owned and managed by the United States Polo Association to showcase the finest the sport has to offer. Visit www.nationalpolocenter.com to learn more about NPC and the 2023 season schedule.