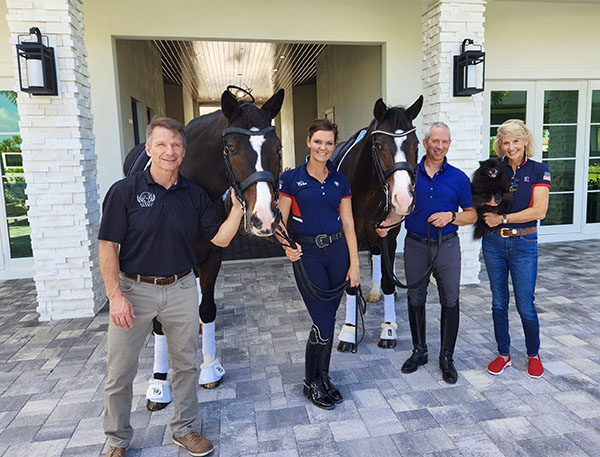 Dressage rider Sarah Lockman Tubman and her husband/horseman Lee Tubman have been settling into the Wellington sport horse and dressage facility Donato Farms.
"The horses, from the moment they went in their stalls, acted like they had lived here all their lives," Sarah said. "I think horses — and people — have permanent smiles on their faces."
Everyone should be smiling. Donato Farms owners Jeff and Jessica Friedrich have gained two talented and versatile equestrian professionals that, thanks to a string of stellar performances by Sarah and her 2019 Pan American Games individual gold medal partner Summit Farms First Apple, are sure to bring to the facility an even greater degree of dressage gravitas.
Most recently, Sarah and First Apple were named to the Top 50 on the dressage World Ranking list. "Myself at No. 37," Sarah said. "First Apple at No. 47."
Donato Farms is ideally located to support the Tubmans' heavy competition schedule and well-earned world ranking.
"The last year was very successful for my horses," Sarah said. "Summit Farms First Apple and I had a great 2021-22 Wellington season, and ended up on the short list for the World Equestrian Games and invited to spend the summer in Europe representing the United States internationally."
Europe was also a success. "We placed in the top three in the CDI4* at Achleiten [Austria] and CDI4* at Schafhof [Germany], and one of the most special moments of the summer was, after placing sixth in the Grand Prix Freestyle at Aachen, being able to ride under the U.S. flag under the lights, in front of a packed stadium," Sarah recalled.
After a short break upon returning to the United States, Sarah and First Apple won both their classes at the CDI4* at the World Equestrian Center-Ocala, and a month later, launched their bid for a slot on the 2023 World Cup squad with wins in the Terra Nova CDI4* and the World Cup qualifier.
In addition, Sarah qualified a second Summit Farms horse, Balia, at the U.S. Dressage National Championships in Developing Grand Prix, and won a Swedish Lövsta Future Challenge for developing young horses.
Lee Tubman has been coaching Sarah and other students to strong finishes in the FEI rings and is looking forward to taking on more FEI riders and horses, and focusing on producing more top combinations for the sport in the years ahead. The Saskatchewan native, who got his riding start in a Western saddle, said his FEI 4* judging experience has helped him produce a string of successful competitors and nearly a dozen NAYC riders.
In fact, one of the most striking accomplishments by this 3M Canadian Coach of the Year, is that he is the first horseman in North American Young Rider Championships (NAYC) history to have competed as a young rider (1981) and serve as a judge (2016).
"Jeff and Jessica have been so warm and welcoming during this move. We are so impressed by their generosity and professionalism," Sarah said.
The layout at Donato Farms, Lee noted, is well thought out, and the facilities are aesthetically pleasing as well as practical, and offer efficiency during day-to-day work. "The arenas are top class, with super footing, great sound and lights systems, and nice, breezy ventilation. There are many 'people luxuries' too, including groom and rider lounges, locker rooms and the most amazing tack rooms," he said.
The Friedrichs are proud to have them at Donato Farms.
"Sarah and Lee are consummate equine professionals in every way," Jessica said. "The Tubmans bring a unique, specialized and focused approach that comes from their combined experiences as stable operators, riders, judges and coaches. And they are able to brilliantly share their collective knowledge with riders and equine athletes of all skill levels and abilities, to achieve the goals they aspire to."
Jeff agreed. "Our vision at Donato Farms was to create a facility to support dressage team sport in an atmosphere that promotes an overall great experience for the equine athlete, the rider and the owner," he said. "Our goal is to maintain an exceptional standard of professionalism, so our training environment is the highest quality."
The word "donato" means a heavenly gift or blessing, and Donato Farms' owners truly do feel blessed to have the Tubmans and their team training out of their facility. "They are amazing on so many levels," Jessica said. "We look forward to hosting them as their dreams become realized. We are excited for what the future may bring."