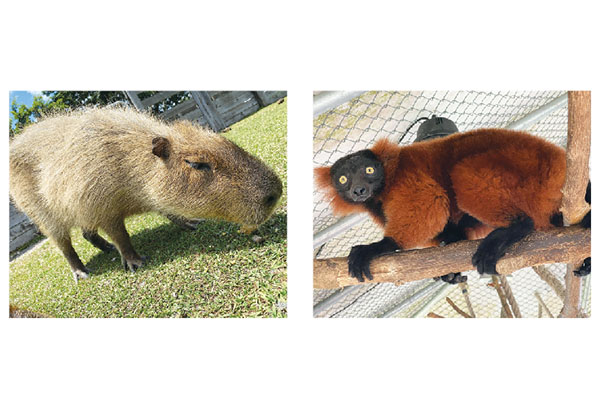 Hidden away among the horses, tall shrubbery and winding roads that are prevalent within the equestrian communities of southern Wellington, there is a hidden gem: a conservation center for exotic animals.
"The first exotic they got here was in 2013, a black-and-white ruffed lemur, Mork," said Cole Davis, who wears many hats at the Wellington Conservation Center.
The center began in a different iteration in Illinois, where owners Matthew and Sherri Carfi had an exotic animal farm, including lions, tigers, cougars and other large animals. They came to Wellington in 1994, raising and breeding Hackney ponies and American Saddlebreds.
The Carfis wanted to also have a black bear rescue, but that wasn't in the cards.
"They haven't given up on the black bears — they've recently partnered with a landowner in Wisconsin," Davis said.
In Wisconsin, the goal is to give orphaned bears, or those that are a nuisance, a safe home.
In the meantime, the Wellington Conservation Center is home to exotic animals that are threatened by habitat loss and poaching, as well as those that are critically endangered. It's a place where unwanted, abandoned and orphaned animals are able to live safely, with nurturing and care.
Davis started at the center as an intern, and over the last few years has taken on more responsibilities, including running the tour program, acting as a camp counselor, taking care of animals, designing merchandise, running the digital presence and more.
For the animals that are not thriving in the wild, the center is working on its breeding program. This includes the lemurs, the wallabies, foxes and there have even been rabbits. Since Davis started at the center, there have been almost 20 baby animals.
The Wellington Conservation Center is home to animals such as a black-and-white ruffed lemur, red ruffed lemur, two-toed sloth, wild hog, pot-bellied pig, pale fox, cattle, Brazilian porcupine, blue-and-yellow macaw, Pekin duck, Bennett's wallaby, capybara, crab-eating raccoon, Patagonian cavy, citron-crested cockatoo, rex rabbit, sulcata tortoise, alpaca, Hackney pony, kinkajou, red-footed tortoise, Indian star tortoise, Muscovy duck, black-tailed prairie dog, southern tamandua and more.
Private tours are available every day by appointment except for Tuesday, and special animal encounters can also be booked. Tours take place at 10:30 a.m., 12:30 p.m. and 2:30 p.m.
"Every day is different when you're working with animals," Davis said.
For those interested in getting a more in-depth experience with one of their favorite animals, special encounters with a species of your choice are available. The most popular special encounters include spending time with the sloths, the anteater or the capybaras for a half hour.
There are many other ways to learn about the animals at the Wellington Conservation Center. They accept interns, offer educational trips, hold special programs for scouts to earn badges, provide volunteer opportunities for those 16 years of age or older, offer summer camp for children ages 8 to 14 and host birthday parties.
During the summer camp — registration has already begun — campers learn how to become junior zookeepers, learn about conservation and focus on different animals at the sanctuary. The weeklong camps begin on June 12, with the last session starting on July 31.
Many of the animals are more active at night, which makes nighttime events a great way to see and interact with them. Coming up on Saturday, Jan. 21 at 6 p.m. is the center's Wellington's Wild Nights event, a fun-for-all-ages nighttime experience with the animals. For three hours — which is longer than a typical private tour — attendees will get to enjoy snacks and refreshments, as well as beer and wine for those of age. Tickets are available online now. They are $35 for adults and those over age 13. Tickets for children are $15.
"The sanctuary is all lit up with lights, and the enclosures are lit up," Davis said. "We do interactions throughout the night… some of them are a lot more active at that time of day."
The anteater walks around, visitors feed the lemurs and porcupines, and get to experience the animals in a fun, nighttime setting with refreshments.
The center is wheelchair accessible and handicap friendly, taking part on relatively flat grass. Visitors can call ahead to discuss mobility concerns.
Visit them online at www.wellingtonconservationcenter.org for more information, or to book a visit.