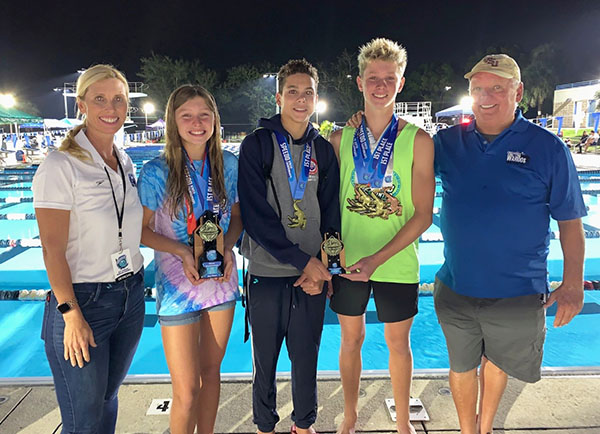 The Plantation Piranha swim team hosted the 32nd annual Speedo Winter Championships at the Plantation Aquatic Complex from Dec. 8 through Dec. 11. More than 50 teams from as far away as New York and Utah competed in this championship event, which saw the Wahoos of Wellington swim team field a sizeable team of more than 40 athletes qualifying for the four-day event.
While most athletes on the team achieved personal best times in multiple events during the meet, there were stand-out performances from several Wahoo team members.
First place gold medals were awarded to: Andreas DaSilva in the 100-yard backstroke, Julian Granison in the 50-yard freestyle, Emma Han in the 100-yard breaststroke, Dillon Metz in the 100-yard freestyle, and Veroncia Metz was awarded gold medals in the 1,650-yard freestyle (one mile), 200-yard individual medley, 400-yard individual medley and the 200-yard fly.
These swimmers also achieved multiple top three podium finishes in other events over the course of the race weekend. Joining them with podium finishes included Luca Gray in the 100-yard backstroke, Katerina Malyshev in the 200-yard breaststroke and the 100-yard individual medley, Illari Rilo in the 50-yard backstroke, and rounding-out the podium finishes from the team was Jessica Smith with an excellent performance in the 1,650-yard freestyle (one mile).
The team also saw several athletes qualify for finals that just missed the podium for their best finishes, which included: Chloe Abinuman with a six-place finish in the 200-yard freestyle, Allison Connors with fourth in the 1,650-yard freestyle (one mile), Caleb DaSilva with fifth in the 100-yard freestyle, Vlad Malyshev with sixth in the 100-yard individual medley, Leorah Rotchin with sixth in the 500-yard freestyle and Lleyton Jobin with 10th in the 1,650-yard freestyle (one mile).
In addition, three athletes earned the prestigious high point awards for their respective age divisions, which included Veronica Metz, Dillon Metz and Andreas DaSilva. Veronica Metz scored the most points out of all Wahoo swimmers, and she was also recently recognized by USA Swimming as a national top ten swimmer in the 11-12 age group.
With the hard work and determination from the athletes, along with championship-level support from head coach Rich Whalen and head age group coach Becky Richey, the Wahoos ended the championship weekend ranked in seventh place overall out of 59 teams.
Congratulations to all the athletes who trained hard to qualify for this high-profile event: Chloe Abinuman, Valentin Alvarez, Uliana Antonya, Alejandro Bahos Andrade, Allison Connors, Billy Connors, Andreas DaSilva, Caleb DaSilva, Nikolina Dengerud, Emily Eaton, Vincent Elliot, Everhart Fergus, Oliver Fergus, Tanner Gilchrist, Julian Granison, Luca Gray, Neylin Gultepe, Kai Hall, Ciana Han, Emma Han, Miranda Han, Grayson Hejda, Natalie Honzik, Lleyton Jobin, Steven Lee, Katerina Malyshev, Vlad Malyshev, Dillon Metz, Veronica Metz, Aria Mindley, Gabriel Pangilinan, Yogi Patel, Gabriel Rezende, Ares Rilo, Athena Rilo, Illari Rilo, Gabrielle Rivarola, Leorah Rotchin, Sage Shach, Jessica Smith, Jaden Spooner, Eric Tauskela and Levi Vilson.