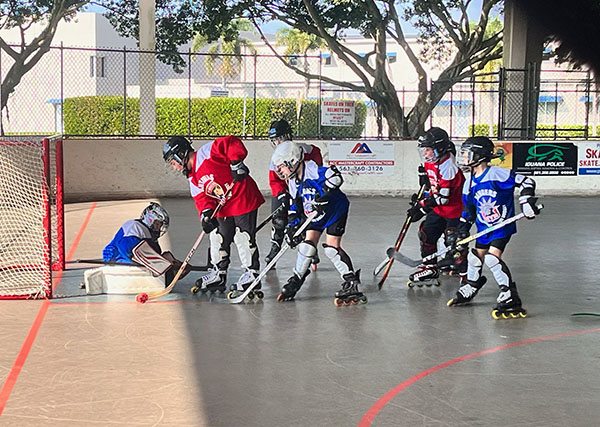 The Wellington Roller Hockey Association continued its season at Village Park on Sunday, Dec. 11. Below are capsule summaries of Week 8 games.
Prep Rangers 4, Prep Stars 3 — Caleb Jacobs of the Prep Rangers scored with three minutes left in the third period to edge the Stars 4-3. The Rangers opened up a 2-0 lead in the first period with goals by Jacobs and Jameson Quintus. The Stars tightened the score to 2-1 after two periods. The teams were tied 3-3 in the third until Jacobs completed his hat trick and put the Rangers ahead for good. Ava Taylor led the Stars with two goals. Additional scoring came from Amanda Warszycki (two assists) and Cooper Mathwig (one goal). Rangers' goalie Justin Spina made 12 saves in victory, while Hayden Mathwig turned away six shots for the Stars.
Prep Rangers 6, Prep Panthers 3 — In the second Prep game, the Rangers broke open a 1-1 game in the second period with a pair of goals, en route to a 6-3 victory over the Panthers. Jameson Quintus of the Rangers led all scorers with a hat trick (three goals). Cooper Mathwig added a goal and two assists, while Elam Jacobs (one goal) closed out the scoring for the Rangers. The Panthers' Drew Cohen had two goals, and Ryan Youngelson added a tally. The Rangers' Justin Spina won his second game of the day while making 17 saves between the pipes. Blake Stephan of the Panthers stood tall in the net and made 29 saves in defeat.
Junior Panthers 13, Junior Bruins 3 — The Junior Panthers used a six-goal first period to jump on the Bruins 6-1 and never looked back on the way to a 13-3 victory. Timothy Holmes of the Panthers led all scorers with eight goals and an assist. Tucker Allen added a hat trick (three goals, two assists). Danil Anzalone (one goal, one assist), Ryan Warszycki (two assists) and Eli Modlin (one goal) rounded out the scoring for the Panthers. For the Bruins, Chase Park scored his first goal of the year. Matthew Taylor and Ben Schwartz each had goals, and Jace Armstrong added an assist. Goalie Blake Stephan of the Panthers rode 11 saves to victory, while Ava Taylor of the Bruins was valiant in the net, making 26 saves while facing a 39-shot barrage.
Learn more about the league at www.wellingtonrollerhockey.com.