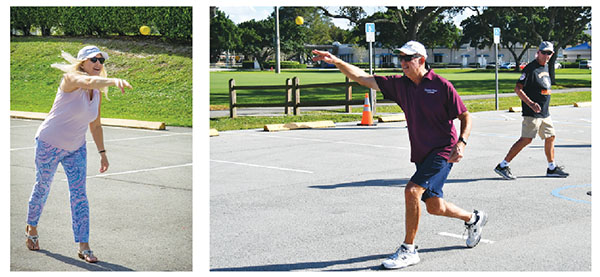 The 2022-23 stickball season in Wellington is now underway. On Tuesday, Dec. 6, the Wycliffe Stiffs Stickball League held its opening day ceremony for the new season, which was followed by two regular season games at Village Park on Pierson Road.
This is the 21st year of existence for the Wycliffe Stiffs Stickball League. In attendance to throw out the first pitch was Wellington Mayor Anne Gerwig.
This year, there are four teams in the league — the Brooklyn Bums, the Bronx Clippers, the Atlantic Whalers and the Hoboken Zephyrs. The Whalers are the reigning champions of the league.
In addition to the 10-game regular season, the league's annual Hall of Fame Induction Ceremony will be held on Feb. 7. The Old Timers Ceremony & Exhibition Game will be conducted on Feb. 14. The league's two semifinal playoff games will be on March 21, and the league's championship game is scheduled for March 28. The annual All-Star Game will conclude the season on April 11.
In the first of the opening day games on Dec. 6, the Brooklyn Bums defeated the Bronx Clippers, 8-2. The Brooklyn offense was spearheaded by Mike Lipsky, Sean Siegrist and Allen Lebowitz. Lipsky slugged three doubles in four plate appearances. Siegrist went two-for-three, scored a run and drove in two with a two-run homer. On defense, Siegrist had six catches for outs. Lebowitz went three-for-three with two triples and two RBIs. The Clippers were led by Marty Ross, who went two-for-three, scored a run and drove in a run.
In the second game, the Atlantic Whalers played the Hoboken Zephyrs. Ross, the original commissioner of the league and now the commissioner emeritus, threw out the opening pitch. In the game, the Whalers outscored the Zephyrs, 10-2. In that contest, the Whalers slugged 12 doubles. Both Art Spector and Sandy Camras had two doubles for the Whalers. For the Zephyrs, Steve Klein went four-for-four and scored a run.
On Dec. 13, the Atlantic Whalers played the Brooklyn Bums, and the Hoboken Zephyrs faced the Bronx Clippers. The Whalers nipped the Bums, 3-2, while the Clippers defeated the Zephyrs, 5-4.
The league will have games on Dec. 20, and then take a break for the holidays. Regular season games will resume on Tuesday, Jan. 10 and continue every Tuesday, with the exception of Feb. 21, until Tuesday, March 14. All games are held at Village Park in Wellington. Most regular season games are held at 1 p.m. and 2:45 p.m., with the exception of Feb. 7 and Feb. 14. Those games are scheduled for noon and 2:15 p.m.