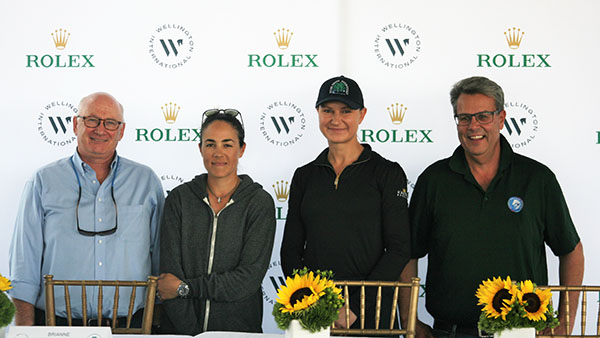 The 2023 Winter Equestrian Festival (WEF) and the Adequan Global Dressage Festival (AGDF) have launched their three-month winter show seasons. Two top riders joined two key show officials on Tuesday, Jan. 10 in the Gallery at the Wellington International showgrounds to welcome the new season, which brings many upgrades to the facility.
"As usual, our focus is on the horses," said Michael Stone, president of Equestrian Sport Productions, which manages the huge equestrian shows at Wellington International, owned by Global Equestrian Group. "So, it's a complete change and there are three new barns — permanent barns — which has been a request from the riders for a long time. We redid rings seven and eight. They were an issue before. They used to flood a lot, and trying to school in a muddy, half-flooded arena doesn't work."
Stone explained that the peak tents were removed over the box seats to create an area where spectators can stand or walk around and still enjoy the competition. Other changes seem small, but make a big difference for the spectator experience, such as improved wireless internet and an improved sound system.
"Our concentration is on the horses and improving the issues, but we also realize that we need spectators. The riders need spectators. They drive the sponsors, the sponsors drive the money, and the money drives the riders," Stone said. "Since we were acquired by Global Equestrian Group, we've spent just over $9 million on improvements to the show grounds."
Stone also noted the parking difficulties experienced on opening weekend, particularly for the popular Battle of the Sexes on Jan. 7. He assured everyone that the issues were resolved for the rest of the season.
"The main thing is, we offer family entertainment, and you don't have to get dressed up. You don't have to be special. Just come and enjoy the highest level of competition that you can imagine. There are Olympic riders from all over the world who come every year," Stone said. "Every year, the community support is better and better. A testament to that is when the top riders enter the ring, and the place gets a little bit quieter, because the public actually knows who the top riders are. Which is something that in 15 years, it has probably taken 10 years to happen. Now it has happened, and that's only good for the sport."
International show jumper and hunter rider Brianne Goutal-Marteau expressed her appreciation for the upgrades made throughout the grounds.
"As a rider, as a trainer and a spectator, it's the only circuit that we have all year that we unpack. For me, I have little kids, and it's a place that we come that we are relieved to get here every winter," she said. "We are here almost five months. WEF is unique and significant."
She added that WEF is extremely important for developing horses.
"In November, you see a slew of young horses, and we reach Week 12, and these babies are veterans by the end," Goutal-Marteau said. "It's really an incredible opportunity for young horses and clients to get better. I don't think that many places in the world offer that for this amount of time and scope of level. We have low beginner level and the best in the world."
Representing dressage athletes, U.S. Olympic dressage team silver medalist Adrienne Lyle added her appreciation for the improvements and expanded on the benefits.
"We have businesses and students. We have the ability to come down here, be five minutes from the showgrounds, show in a World Cup qualifier, show against the best of the best. Go home. Train my students, train my clients. And have enough shows offered that I can spread out," Lyle said. "I'm able to pick and choose, and that has been hugely beneficial, both as a high-performance rider and someone who runs their own business."
She enjoys the electric atmosphere of the Friday Night Stars events at AGDF.
"It is honestly one of the coolest atmospheres I've ridden anywhere in the world," Lyle said. "The electricity and the enthusiasm on Friday night in those freestyles is really incredible. You can feel it as a rider, your horses can feel it and it's really an experience I'm not sure you get it anywhere else."
AGDF Director of Sport Thomas Baur is happy to see years of work finally resulting in dressage coming to Wellington International.
"The Olympic qualifications started Jan. 1 for us. That means we will have a lot of riders already starting their qualification process. We have the Asian games later this year. We will see for the first time, riders from Turkey, Singapore and Thailand here in Wellington," Baur said.
The next four months of equestrian competitions will result in $13 million in prize money. Baur believes that up to 35 different countries could be on site for the events. Both AGDF and WEF have seen an increase in the number of horses signing up to compete.
When asked about the recent rebranding of the facility, which used to be known as the Palm Beach International Equestrian Center, Stone was quick to share his enthusiasm.
"It showed a clean change from where we were to where we are going. Part of the background is if you go anywhere in the world and ask, 'Where are you going this winter?' They would say they are going to Wellington. That is something they were already saying," he said.
Stone added that spectator numbers have been going way up since the two seasons that were impacted by the pandemic. He expects that it will continue that way.
For more information about the various events during WEF, visit www.wellingtoninternational.com. Learn more about the AGDF at www.globaldressagefestival.com.