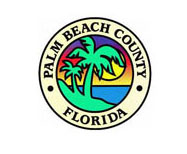 Palm Beach County Animal Care & Control (ACC) is encouraging the community to ring in the New Year with a new best friend. To help, ACC is offering $23 adoption fees for the month of January.
For those looking to exercise more or catch up on their reading, ACC has many adoptable animals that would be great companions for those activities. With more than 300 animals in the shelter, it is easy to find the perfect cat or dog to fit any lifestyle.
ACC is seeking help this year to find homes for the animals. Residents can also be part of something bigger this year by becoming a #HealthyHome foster, which is a community member who chooses to care for, love and promote a shelter animal to increase the chances of adoption. Supplies, such as monthly preventatives, food, collar, leash and crate, are provided for the dog. The foster parent just has to supply the love. Fostering a dog helps make space for another dog in need and provides the opportunity for a foster dog to experience love and attention outside the kennel environment.
Those interested in adopting or fostering a furry friend can visit Animal Care & Control in person (no appointment needed) or view pets online at https://secure.co.palm-beach.fl.us/snap.
Palm Beach County Animal Care & Control is located at 7100 Belvedere Road, just west of Florida's Turnpike. For more information, call (561) 233-1200 or visit www.pbcgov.com/animal.