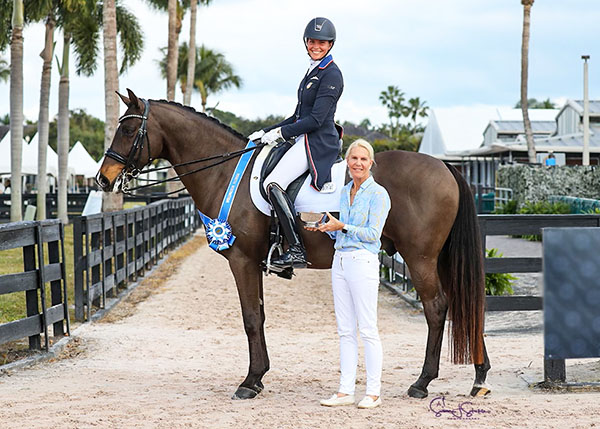 Anna Marek on Firefly was chosen by her peers to receive the Illustrated Properties People's Choice Award for exemplary horsemanship, sportsmanship and performance at the Jan. 11-15 Adequan Global Dressage Festival CDI-W/CDI-4*.
Marek had a very successful show in Wellington, earning her personal best Freestyle score, over 76 percent in the CDI-W with Firefly on a cold and windy Friday Night Stars event, plus impressive rides at the CDI small tour with Duvel, a 15-year-old KWPN gelding by Florencio owned by Cynthia Davila. She also showed two horses on the national side.
Marek, who represented the United States in the 2019 Nations Cup on Dee Clair, is aiming to build up her scores with Janet Simile's Firefly, a 13-year-old KWPN Briar Junior x 007 gelding. The duo began their partnership a year ago. She explained Firefly loves his job and is a bit of a worrier, always wanting to do it right and not make a mistake. When she first started riding Firefly, he was a bit spooky, but Marek has learned to keep him calm. Firefly has become more confident and stronger as their partnership has grown.
With multiple wins at the CDI small tour level in Ocala, Marek felt Duvel was ready to come to Wellington for the "big competition." The pair had solid weekend scores in the low 70s at PSG and I-1. Duvel, over 17 hands, is a good fit for Marek, who is six feet tall.
On the national side, Marek showed her own 10-year-old Hanovarian gelding Donauwelle P (Donnie) at I-2, and the 7-year-old Lareau D.E., a KWPN gelding, owned by Anna and Wendy Mantell. Lareau D.E. moved up from 1st level to a 3rd level score of 70 percent.
Wearing many hats, Marek is a successful trainer, coach and mother of two small children. She credits the amazing help from her parents, mother-in-law and husband that allows her to come to Wellington and compete. She also credits her longtime coach Anne Gribbons for her successes. Her sponsors include Devoucoux, Ecogold and Hallway Feeds.