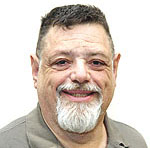 'I' ON CULTURE
One of the most popular kinds of films are those that praise Hollywood. There are so many, and the new film Babylon is another in the string. At times, it echoes my favorite film about the switch from silent films to talkies, Singin' in the Rain. But director Damien Chazelle looks at things far differently than the maker of that film, even though he references it and even has a snippet of it in this new movie.
To Chazelle, the people who create dreams live through nightmares, and in this movie, we see both.
We have immigrant dreamer, Manny Torres (Diego Calva), who wants to become a movie director; Nellie LaRoy (Margot Robbie), the starlet who desperately wants to move up; Jack Conrad (Brad Pitt), the charming movie star struggling with his personal and professional life; and the exotic lesbian chanteuse Lady Fay Zhu (Li Jun Li), who becomes a casualty of the times due to Hollywood's racism and stereotypical treatment of Asians. And we have black trumpeter Sidney Palmer (Jovan Adepo), humiliated by allowing minimal onscreen opportunities and forced to wear blackface so he didn't look lighter than the rest of his band.
The plot focuses mainly on Torres back in the "Roaring Twenties," who starts out by doing odd jobs in silent films, many of them disgusting. But he falls for LaRoy and tries to help her. She moves up through upstaging others. He moves up by doing favors for drunken Jack Conrad, who gets him a better job and helps him move up the ranks. Nellie, struggling to get by with the demands of "talkies," gets into drugs and gambling, ruining her reputation. Several elements are quite graphic, including her fighting a snake, being bitten on the neck before killing it, and then having the poison sucked out by Fay, followed by a passionate kiss. The lesbianism, coming as Hollywood becomes more puritan, helps ruin Nellie's career. Meanwhile, Jack is going downhill, losing his popularity. From there on, just about everyone seems to decline.
The main point seems to be that it is what is on the screen that is important, and the lives of the people who put out the content don't really count. Watching this, no one would want their kids to get within a thousand miles of Hollywood.
The film is very long, and we feel it, despite very good performances. By far the standout is Calva, perhaps because his is the most rounded character. He is able to create a real person, one who is a dreamer but also has flaws. He knows the flaws could destroy him, but he is willing to risk things to accomplish his dreams. Pitt is his usual charming self, but bravely willing to show an aging actor in decline. Robbie, one of the most beautiful women in Hollywood, is strong as the struggling, low-class LaRoy, particularly near the end as she rebels against the hypocrisy of the Hollywood power elites, many of them coming from backgrounds as problematic as her own.
Chazelle has previously done a shameless sonnet to the loveliness of Hollywood in La La Land, but this is the reverse. It is the nightmare underside of the place. There is an old line about not wanting to see how sausages are made, and the same may well go for movies, particularly back then. The hedonistic scenes are directly counter to the image being projected on the screen. And the performers, magical once the movie lights go out, are grungy when they try to live their lives.
This is a film that has some very vivid images. It is certainly not for kids. It does reflect a lot of Hollywood, but its constant focus on the worst elements, on the sleaze and fake glamour, takes a lot of the fun out of the film.
This is the kind of film you should wait for a few weeks to see and then watch at home on television, presumably when any kids are not around. And if you skip it, well, no great loss.