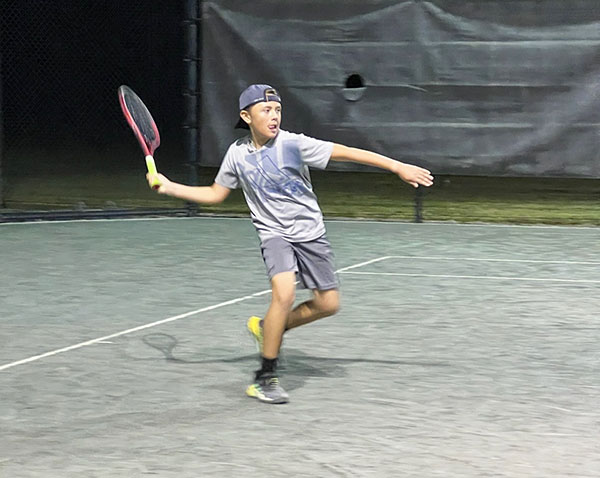 One of the next young tennis players from South Florida to grab the attention of tennis fans around the world may very well be 10-year-old Daniel Levine of Wellington.
Off the tennis court, Levine is a regular 10-year-old who attends Panther Run Elementary School. Levine has played youth soccer, dabbled in tee-ball, enjoys playing table tennis and excels in the classroom, where he is good in math. He is also an avid coder.
On the tennis court, with his Wilson Clash racquet in his right hand, Levine transforms into a talented and driven tennis player.
"His dream is to be a professional tennis player," said Grant Levine, Daniel's father. "He has been playing tennis since kindergarten."
Levine is on the tennis court five days a week at the Wellington Tennis Center and his community's tennis courts for a total of 12 to 15 hours each week.
His tennis coach is Luke Stephens, who speaks highly of his young protégé.
"On the tennis court, he's quick with his eyes, double jointed, has a high tennis IQ and is ready to adjust to any situation," Stephens said. "Daniel is a special kid. He always has a positive mental attitude."
In competition, Levine often finds himself competing against older players — and has been winning. According to his father, many of the players Levine faces are older since he is one of the younger competitors in the 12 & Under age group.
While Levine is talented on the tennis court — where he has a big serve, good ground strokes, an effective topspin forehand and strong mental toughness — he appears to be equally comfortable playing either singles or doubles.
His competitive versatility was on display in early December when Levine won three titles at the Little Mo International Tournament in Palm Beach Gardens, which featured approximately 600 junior tennis players from 60 countries.
In his age group, Levine won the boys singles, boys doubles (with partner Kingston Rees from the Bahamas) and mixed doubles (with partner Piper Binkley from Orlando) titles at the Little Mo International Tournament.
As of mid-January, in the 12 & Under bracket, Levine is ranked 702nd in the U.S., 72nd in Florida and 20th in the local district, which includes Palm Beach, Martin, Indian River and Okeechobee counties.
"To put those rankings in perspective, Daniel is 702nd out of 6,882 boys nationally, and he's 72nd in Florida compared to 638 around the state," Grant Levine said. "Again, he's a 10-year-old competing against players older than him."
Keeping his momentum going, Levine started 2023 with another tournament victory, when he won the 12 & Under boys singles title at the New Year Clash, which was held Jan. 14-15 at the Wellington Tennis Center.
With the resources of the Village of Wellington's junior tennis program, Tennis Director Chuck Gill, Facility Manager Duane Hamilton, mother Sharon Levine, father Grant Levine and coach Luke Stephens, Daniel Levine has a team behind him to make him the best he can be.