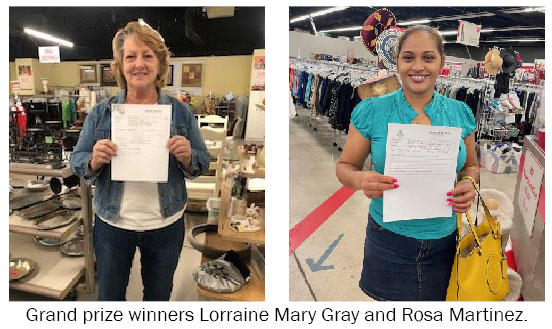 On Dec. 30, Rosa Martinez and Lorraine Mary Gray became the grand prize winners of the Centennial Sale sponsored by the Salvation Army of Palm Beach County.
The drawing concluded a "100 Days of Savings" Sale held Sept. 22 to Dec. 30 at the organization's two Family Store locations in honor of its 2022 Centennial Anniversary.
Shoppers received weekly in-store discounts on already reduced prices during the 100 Days of Savings campaign. Purchases of any amount were eligible to participate in a weekly $100 shopping coupon prize drawing by submitting their e-mail address. A cash grand prize of $250 was drawn from all entry forms on Day 100 (Dec. 30) at each of the Salvation Army's two Family Store locations.
"The decision to offer 100 Days of Savings was made due to the overwhelming financial needs of local families in dealing with increasing clothing, furniture and appliance prices created by rising inflation and supply shortages," said Major Chip Hall, the area commander of the Salvation Army of Palm Beach County. "I can think of no better way that we could have celebrated our organization's Centennial Anniversary than to have focused on helping local families deal with the nation's current financial crisis."
Family Store Manager Bruce Garabrant thanked everyone who participated in the months-long sale event.
"I want to personally express my appreciation to the public for visiting our two Family Store locations during our 100 Days of Savings," he said. "We had many weekly winners claim they never win anything and were very thankful. It was an amazing feeling calling people from our community and letting them know they won and hearing the shock and joy in their voices."
To schedule a pick up, call the Family Store Manager at (561) 683-3513. For more information about the Salvation Army of Palm Beach County, call (561) 686-3530 or visit www.salvationarmyflorida.org/westpalmbeach. Find them on Facebook @salarmypbco.