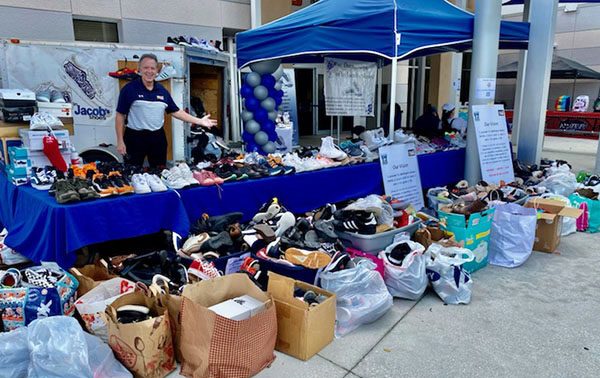 When you're working at a party company and a recently reunited college friend asks you to help with an event, the answer is, "sure."
When you later learn that the event, and other events like it, are for a charity that friend's family made in memory of her late son, there's no way you're not going to get more involved.
And that's how Maddy Chusid became the executive director of In Jacob's Shoes, though she wore a few different hats before taking that role.
"It's amazing," Chusid said. "I can't think of anything I'd rather be doing. It helps the family. It's very heartwarming. It's great to be with the family and help them with this great project — turning tragedy into something in Jacob's honor."
Chusid has been involved with the Jacob S. Zweig Foundation Inc. almost since its beginning in 2009.
At age 17, Zweig was tragically killed on Nov. 15, 2008. In Jacob's Shoes started when his friends and family wanted to keep his memory alive by encouraging others and improving their lives.
And in recent years, the organization has grown by leaps and bounds.
Since 2009, In Jacob's Shoes has distributed more than 197,528 pairs of new and refurbished shoes, 37,940 pairs of socks and 10,762 backpacks with school supplies. They provide these items to children in need in Palm Beach, Broward and Miami-Dade counties.
"I think that Jacob would be very proud," Chusid said. "I think it's a great way to honor him."
The nonprofit works with all of the schools in the county, with nearly 30 shoe closets in Palm Beach County Title 1 schools. If a Title 1 school doesn't have a shoe closet yet, they're working on it.
Nearly one in five children in South Florida are in need — and that number has increased in the last few years.
"COVID-19 took a toll on families," Chusid said. "We've seen more requests."
In Jacob's Shoes receives requests for supplies for children, typically through agencies or social workers.
"We work with agencies; we do not work directly with the families or children for several reasons, one being we'd have to vet everybody again," she said. "How many times do you really want to make families go through this? If the request comes from social workers, agencies, schools, they don't have to go through the process, they've already been vetted."
Groups that would like to become involved need to register, provide proper paperwork, then can request supplies, as often as they need.
For those in need, there are many organizations that can help listed at www.injacobsshoes.org. For those looking to help, volunteers are always needed.
"It's a team effort. We have a couple of people who work here in the warehouse, and the volunteers," Chusid said. "We couldn't do it without our volunteers and the support of the community. It's unimaginable how wonderful everybody is and how everybody helps."
In Jacob's Shoes has a wish list on its web site for Amazon and Walmart, and accepts monetary donations as well as donations of new or gently used shoes.
Donations, Chusid said, are extremely important.
"For the older kids, they don't want to be seen as different, they want to blend in… It's like with women, you look at the shoes and the purse," she said. "Kids look at the shoes, and if they don't have a decent pair of sneakers on, they'll get bullied or picked on."
In Royal Palm Beach, In Jacob's Shoes works with Grandma's Place, and Grandma's Place is one of the locations where donations can be dropped off. Appointments should be made prior to dropping off any donations.
In Jacob's Shoes also works closely with the Palm Beach County Sheriff's Office, providing sneakers for children in summer camps. They also donate for back-to-school events. "We're not a back-to-school place; we're year-round. We're 365. We're always open," Chusid said.
Recently, the Wycliffe Charities Foundation awarded a grant to In Jacob's Shoes.
"In Jacob's Shoes was selected because they applied to us, and the committee liked the idea of In Jacob's Shoes because it helps so many people. We're interested in helping as many people as we can, and In Jacob's Shoes does that," Wycliffe Charities Foundation President Norman Primost said.
The foundation was founded in 1995 by civic-minded Wycliffe residents who wanted to make an impact in the greater community through charitable donations. The community funds the foundation through activities such as fundraiser events, financial donations, tributes and donor programs.
"We thought they were providing a wonderful service to the community," Primost said.
And the contributions of the foundation have been able to help In Jacob's Shoes continue to make a difference.
"They're a great organization, and they've been funding us for years," Chusid said.
Coming up in Wellington, on March 4-5, is the Wellington Wolves March Madness basketball tournament. The Council of Dads, along with the Wellington Wolves, will be collecting new or slightly used sneakers at Village Park in Wellington during the tournament. Those shoes will go to In Jacob's Shoes.
"For the last several years, they have been doing a tremendous shoe drive for us at their tournament," Chusid said.
The teens who participate bring shoes to donate, and they donated thousands of pairs of shoes to In Jacob's Shoes each year. Wycliffe residents are also collecting shoes for this fundraiser.
There are many events coming up to benefit In Jacob's Shoes. On Saturday, March 4, Spirit of Giving is hosting its fourth annual Community Spirit Race at the Florida Atlantic University Football Stadium, and will benefit more than 25 local nonprofits, including In Jacob's Shoes. The first annual In Jacob's Shoes Shopping Boutique fundraiser will take place on Thursday, April 27 at Congregation Kol Tikvah in Parkland with vendors and lite bites.
"I feel like definitely Jacob is looking out for us, steering things our way," Chusid said. "It has been a very good year, and our events have been going well. The more we do, the more we can help."
For more information, visit www.injacobsshoes.org.