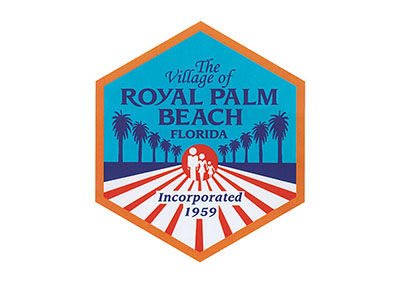 Crestwood Middle School Principal Stephanie Nance highlighted her school at the Royal Palm Beach Education Advisory Board meeting on Monday, Feb. 13, joined by staff members and students to showcase the programs at her school.
"We lovingly call Crestwood the Eagle's Nest. I am the thankful and humble principal. This is my 17th year as principal of Crestwood Middle School, and I have had the distinct pleasure of serving Royal Palm Beach for 27 years. I like to say that we are vested and invested," Nance said. "Thanks to your tax dollars, we have new furniture, and I'm not as old as the furniture anymore!"
The 742 students at Crestwood are a true melting pot of backgrounds and cultures. The average tenure of the current teaching staff is seven years, and the school is proud to have maintained its B rating despite pandemic setbacks.
The goal for the next year is to increase student proficiency on district and state assessments in all tested areas; increase student learning gains in both ELA (English language arts) and math; offer collaborative and authentic professional learning communities for teachers; and cultivate and foster positive relationships.
"We have a student-first philosophy," Nance said. "Our goal is to provide every opportunity to be able to connect. Research shows that if a student is connected to their school, their achievement levels will likely increase as compared to a student that is not connected to school. We want every student to connect to a program. Each student has their own journey."
These connections come through a diversity of offerings that range from high school credit level classes to a wide variety of clubs. Crestwood has academic and robotics clubs, sports and more than 30 business partnerships to enhance these options. One thing that sets the school apart from others is the involvement in the Cambridge Pre-AICE program, which carries over to Royal Palm Beach High School and sets students up for success.
"Education has to be a partnership," Nance said. "Because of the interest in mental health, we understood the importance of reconnecting and helping our students learn to plug back in. We knew that was not going to be a one-year initiative, so we continued to develop a multi-year approach in Skills for Learning and Life (SLL)."
Formerly called SEL (social-emotional learning), the SLL program takes a broader approach. The intent is to lead students toward achieving success over the long term with academics, building confidence, supporting mental health and resiliency.
Crestwood is helping students battle anxiety with Wellness Wednesdays, where students learn life skills such as communicating assertively, but not aggressively. Afterward, students are able to give direct feedback to monitor both progress and understanding. Other programs include Best Buddies, Mindfulness Club, Safe School Ambassadors and the Easing Transitions program, where incoming fifth graders spend the day learning how to navigate middle school. Meanwhile, the school also celebrates both honor roll and SWAG (students with amazing growth). Students in art programs are showcased through artist of the week.
Parents and guardians can get involved through programs like All-Pro Dad, designed for all male figures in students' lives. Chat and Chew with the Counseling Crew allows parents to meet the team of counselors supporting their children. The school also hosts quarterly Parent Connection sessions to help adults navigate some of the tools available. Nance and involved students also discussed the Peer Mediators program.
While group counseling, Eagles in Action and the Character Now initiative are also in place, special events like Pink Shirt Day on Feb. 22 continue. The Crestwood Mental Health Summit is one full day of mental health learning that satisfies a state mandate and follows a specific curriculum provided by the school district.
"I think this is amazing. You've got a great team, and thank you for being thorough in sharing what you are doing for student mental health," Board Chair Jennifer Sullivan said. "We probably also need to focus on teachers' mental health, so I'm sure the district will be addressing that soon."
Nance agreed that teacher mental health is also a priority.
"Our district is putting all of its resources into making sure our students are OK and our employees are OK," she said. "Because we all know that if our hearts and minds are not OK, then we can't learn, and we can't teach. Thank you for letting us show you how we are working to strengthen the mental health and social emotional well-being of our children."
While many staff members were in attendance to introduce themselves, visual arts teacher Patricia Duebber and the Director of Bands Jeneve Jarvis had presentations to share.
"If it wasn't for your support, a lot of the great things we do in the arts wouldn't be possible. You saw the display boards out front. I could not be prouder of the work. They are amazing young people," Duebber said. "As an educator you can lead them to the water, but you can't make them drink, but our students at Crestwood are lapping it up. They cannot get enough. They stay late, they come early, they work through their lunches, and still want to work on their art. To generate that kind of love of learning, to inspire and educate and affirm them, that's what we are all about."
She noted that two of the last three years, students have won first place in the Art in the Capitol competition, where their work hung in the halls of Washington, D.C. Her students also took first place in the superintendent's greeting card contest, and both first and second in the I Voted contest, where their designs were placed on stickers and handed out on election day.
Jarvis directed band students as they performed for the board, and shared their accomplishments, echoing the success of the visual arts program. All students who recently competed on the county level received all superior and excellent ratings.
"It's a wonderful time to be in the arts. I grew up in the county, my mom was a teacher," said Jarvis, who teaches 120 students in the band program, including beginning band, symphonic band and concert band. "Before you is our jazz band. They are a volunteer group who come in to practice on their own because they love it."
School Board Member Marcia Andrews, who attended the meeting, was very impressed by the students and teachers.
"Crestwood eagles soar very high," she said. "When we think about the arts and academics, putting the two together, it's just so outstanding for our children. I had a wonderful time at Crestwood when I was there for Career Day. You do so many great things."
In other business:
• Regional Superintendent Valerie Zuloaga-Haines provided an update on the process of Melaleuca Elementary School sharing the Crestwood campus. Due to a lack of cement, the Melaleuca project has been delayed, and students are expected to remain on the shared campus for another six months. This also pushes back the timeline for Wynnebrook Elementary School to move to the campus in the middle of the 2023-024 school year.
• The council welcomed two new people to the dais, Erin Franklin as a new board member and Paula Wilson as a board alternate.