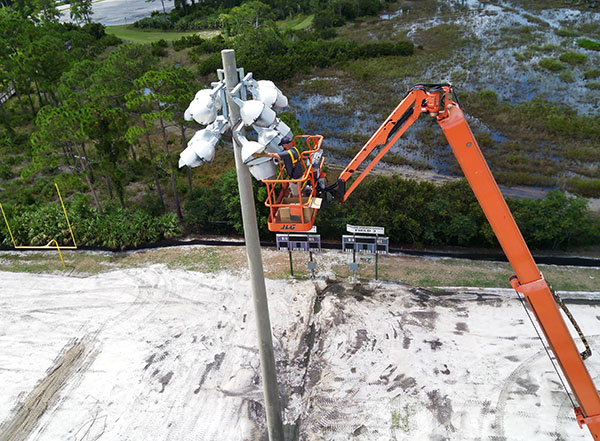 The Indian Trail Improvement District encompasses more than 100 square miles wound through by long tangles of equestrian trails and dotted with nine parks. The green jewel in that array is Acreage Community Park, sitting on 25 acres alongside 140th Avenue North.
In recent years, however, several facets of that jewel have shown some cracks and a need for refurbishing and upgrading, not only in the grass-and-goal-posts sense but also in terms of policy and plans for the future, district officials said.
ITID supervisors have suggested that a workshop series is needed to review those issues, but so far none have been scheduled.
Despite long-term disagreements over park policy and a schism between flag football factions, actual brick and mortar, sod and turf, lighting and drainage work has been getting done with more being planned.
On March 16, ITID President Michael Johnson and Acreage Athletic League Acting President Wendy Tirado were among those on hand for the grand re-opening of the park's north fields, which have undergone a 10-month, $580,000 renovation.
Honored at the ceremony was longtime AAL coach Willy Freundlich, a cancer survivor who died of a heart attack at the park in 2020. His wife, Leslie Freundlich, and daughters Brady Claude and Katie Salabarria attended the ribbon cutting.
"It was a nice ceremony… and this was a good project," said ITID Supervisor Patricia Farrell, who also was on hand. "The turf looks pretty well settled… and the kids are safe. That's the main thing."
Safety became a paramount concern last May when ITID workers began removing blighted and beaten-down sod and discovered electrical conduit running barely below the surface in some areas, along with roots and stumps.
"If we had realized the condition of the wiring under the surface, we'd would have shut those fields down and replaced it sooner," said Robert Robinson, the district's assistant executive director and operations director.
Standing water had long been a problem on the fields, and workers quickly discovered why — the drainage system beneath the field was improperly installed when it was constructed in the late 1990s.
And with that, the project expanded by necessity. It also came to include new scoreboards and goal posts, and a new security fence to discourage people from riding ATVs or horses on the field.
Parks & Recreation Director Kenny Lawrence personally climbed into a cherry picker and repaired and replaced lights in the tall stanchions surrounding the field, which was expanded to official Pop Warner Football dimensions.
"I was a little nervous at first," said Lawrence about his high-wiring act. "But I got used to it… I'm happy with what got done. I just wish it could have been done a little faster."
The project, originally scheduled for completion in August 2022, was slowed when workers discovered one problem after another, and by supply chain issues, Robinson said.
ITID employees, who handled the entire project except for the resodding, worked through Thanksgiving, Christmas and New Year's to make sure they would be ready for the AAL's spring sports, he said.
AAL co-ed flag football teams began their season on the new turf March 4 with some 350 players.
Even though the project ended up costing more than four times the original estimate, ITID Executive Director Burgess Hanson said he is satisfied with the outcome. At least $100,000 was saved by having district crews do most of the work, he said.
Acreage Community Park also features a playground, grill and picnic areas, restrooms, a press box, a track and walking path, a skate park, shade structures, an amphitheater, and football and soccer fields.
A facelift for park's baseball and softball fields also is planned. Farrell said she hopes the improvements will begin soon, but Hanson said that will be up to the board due to the expense, which would be considerable.
"We need to refurbish or replace the dugouts," he said. "We also need to improve the press box and concessions areas."
Whether it will be necessary to resod the entire outfield also will factor into the cost, Hanson added, noting that work also needs to be done to make the building compliant with the Americans with Disabilities Act.
Already ITID crews are doing what they can to upgrade the fields, he said. They are fertilizing the outfields and remixing the clay on the infield. Crews also replaced lights and made other improvements to the scoreboards during the revamp of the football fields, he said.
Starting soon will be a $3 million expansion of facilities at the south end of the park that will include an artificial turf, regulation-size football field, new bathrooms, equestrian parking for better access to the trails, new lighting, and the construction of a new skate park replacing the current grind rails, ramps and half pipes.
The money was originally earmarked for construction of a community center at the park, but due to pandemic delays and the increased cost of construction, the project became too expensive.
ITID supervisors requested that Palm Beach County allow the district to use the money from the Infrastructure Surtax Funding Agreement for other improvements to the park. County commissioners agreed earlier this year.
"I'm looking forward to getting started," Robinson said.