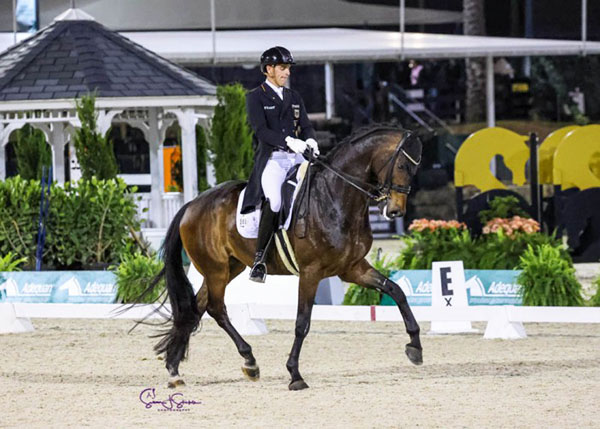 The International Arena at Wellington International — home of show jumping's Winter Equestrian Festival — hosted the CaptiveOne Advisors CDI5* Grand Prix Freestyle and the CDI5* Grand Prix Special, sponsored by Wellington Equestrian Realty, on Friday, March 17.
This show marked a change of venue for the five-star classes at the 2023 Adequan Global Dressage Festival (AGDF), which usually operates out of the nearby Equestrian Village site.
Frederic Wandres is no stranger to the winner's circle, and he and the phenomenally talented Bluetooth OLD chalked up 82.31 percent as the penultimate combination in the class to ensure the German anthem rang out again. All five judges had the pair to win, and all awarded over 80 percent.
Two American female athletes filled the remaining steps of the podium. Sarah Tubman secured second with a 77.58 percent ride on Summit Farm's 13-year-old Vivaldi stallion First Apple. Ashley Holzer scooped third place, riding her own 13-year-old Sir Donnerhall mare Valentine to 76.295 percent.
Wandres did not shy away from a high degree of difficulty, riding 19 one-time changes on a curving line to a new 1980s music compilation. Bluetooth looked confident and secure in the piaffe fans and the passage half-passes, which are both optional elements of a freestyle, but add to the degree of difficulty — and therefore risk — that a rider chooses to take. It paid off for the duo, whose balanced test was also bursting with power. It was their sixth consecutive victory at this year's AGDF, and their highest score of the season.
"Six out of six is really amazing," said a delighted Wandres, who rides for Bluetooth's owner, Hof Kasselmann. "It shows that the horse and I have improved a lot. We started already high, and it's not so easy over three months to keep the level that high — you have to keep the horses happy and sound — and they're not used to the heat."
Bluetooth had an easy period after the World Cup qualifier in AGDF Week 8, and Wandres felt he had benefited from the break.
"He was very fresh in the Grand Prix, and I had a super feeling," he said. "He's very with me during the tests. Even though there were a lot of spectators, he was very focused and with me."
Wandres' new freestyle soundtrack was a modern twist on 1980s music, and it was rewarded with a 10 from the judge at C, Stephen Clarke.
"It was a great evening, really good for the sport," Clarke said. "The level was really high, and we had an outstanding winner, but also three or four riders were really close together and had real highlights. The atmosphere here is electric, and I think it gave a real edge."
Tubman was especially pleased with First Apple's piaffe, which has been a little tricky in the past, during their Terry Ciotti Gallo-made freestyle. This was also her debut five-star show.
"We have been using the freestyle to help build Apple's confidence," she said. "I can set the test up so it's the best for him. Tonight I think was some of my best piaffe I've had in the ring, and he felt super reliable. He's a showman — he loves the lights; the more people and the more noise, the better. I was really happy to feel honest energy with relaxation. We're also really excited to take what we've learned over the season to Europe this summer. I'm pretty new at this in this big ring. This is my first five-star, so it's a bucket list item to be sitting here with these guys."
Holzer's mare Valentine has been intimidated by large venues in the past, so her two podium finishes last week at Wellington International's atmospheric International Arena were of particular note.
"This is a really challenging venue for her, and she was a little tense in the beginning, but I think the last centerline with the piaffe and passage was amazing," she said. "She was feeling really energetic and forward. I'm excited that she's able to come to these atmospheres now and cope. It has been a bit of a challenge, so the more I can do it, the better she gets as far as confidence is concerned. It's great to have these venues in America."