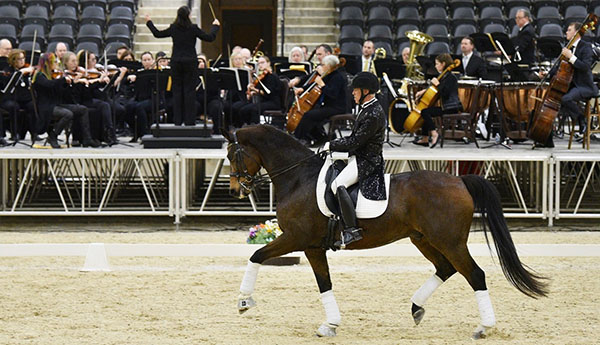 The Brooke USA Foundation recently announced the Palm Beach debut of Divertimentos & Dressage, presented by Lugano Diamonds, a one-of-a-kind showcase by dressage riders mastering art and competition while performing choreographed movements with their Grand Prix horses to a live symphony orchestra. Presented in partnership with the Palm Beach Symphony, Brooke USA's signature event will be held Thursday, March 23 in the covered arena at the Vinceremos Therapeutic Riding Center.
"Whether you love horses and symphony, or more generally, animals and music, or even a unique night out, Divertimentos & Dressage, presented by Lugano Diamonds, is an exciting masterpiece that is captivating audiences, and we are so pleased to bring the event to Palm Beach County," said Emily Dulin, CEO of Brooke USA. "The Palm Beach Symphony, known for its diverse repertoire and commitment to the community, is a natural partner for us as we combine efforts to alleviate the suffering of working horses, donkeys and mules, and the people they serve in vulnerable communities across the globe."
The evening of freestyles to a live orchestra will be performed by a group of well-known international Grand Prix riders, including Brooke USA ambassadors, National and Regional USDF Champion JJ Tate, and 12-time USEF Para-Equestrian National Champion Rebecca Hart. In addition, the performances will include London Olympic alternate and World Equestrian Games competitor Todd Flettrich, Israeli athlete Sahar Daniel Hirosh, and American competitors Jim Koford and Allison Kavey.
Divertimentos & Dressage was originally conceptualized by equestrian and flutist Sally Frick, founding chair of the Foothills Advisory Council and a member of the Brooke USA Board of Directors, and held at the Tryon International Equestrian Center. The Palm Beach debut is chaired by Margaret H. Duprey and Selma Garber.
"This is an exciting event offering the perfect combination of skill and entertainment for guests to enjoy something truly unique during the Wellington winter equestrian circuit, while doing good for horses, donkeys and mules around the world," said Duprey, Palm Beach debut event chair, international dressage rider and recipient of the USET Foundation's R. Bruce Duchossois Distinguished Trustee Award.
"We look forward to hosting guests from throughout Palm Beach County for an unforgettable evening of horses, music, auction items and more," equestrian and co-chair Garber said.
Starting with registration at 6 p.m., guests will enjoy a pre-performance reception with cocktails and hors d'oeuvres. At 7:30 p.m., guests will be treated to a one-hour freestyle dressage performance to classical music.
To purchase individual tickets, a table or to learn more about sponsorship opportunities, visit www.brookeusaevents.org.