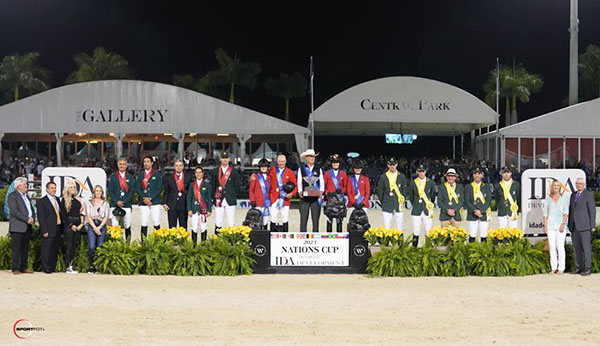 Despite being on U.S. soil, Wellington International was brimming with Canadian pride on Saturday, March 4, as the Canadian Show Jumping Team gave a dominating performance in the $150,000 CSIO4* Nations Cup, presented by IDA Development. Team members Erynn Ballard, Mario Deslauriers, Tiffany Foster and Beth Underhill were led by 10-time Canadian Olympian Ian Millar in his debut as chef d'équipe.
In the 22-year history of the Nations Cup at the Winter Equestrian Festival, Canada has stood atop the podium six times, making Saturday evening's performance lucky number seven.
Eleven teams — Argentina, Australia, Belgium, Brazil, Canada, Chile, Great Britain, Ireland, Mexico, the United States and Venezuela — competed in the opening round, and the top eight returned for round two during Saturday Night Lights. At the start of the second round, Brazil, Canada and Ireland were tied on eight faults each over a course designed by Anthony D'Ambrosio.
With the pressure on, Canada rose and produced three clears from Ballard, Deslauriers and Foster, giving Underhill the opportunity to sit out the round. Deslauriers finished the night fault-free aboard Emerson, an 11-year-old Belgian Warmblood gelding owned by Wishing Well Farm.
"My plan was to try and jump another clear and lock it up," said Deslauriers, who guided Emerson through the mount's first Nations Cup experience. "He's jumped some bigger tracks at Spruce [Meadows] on the field, so he was very capable. I had high expectations, so it's a huge relief. I must thank my teammates and our chef d'équipe for a great night."
Brazil's Luiz Francisco de Azevedo, Fabio Leivas de Costa, Luciano Lossio and Eduardo Menezes settled for runner-up, while Ireland took third. The Irish squad included David Blake, Cian O'Connor, Shane Sweetnam and Max Wachman. Both teams finished on an eight-fault tally.
Leading off with winning momentum, Foster and seasoned mount Hamilton produced the first clear of the second round.
"This Nations Cup almost feels like a home Nations Cup for us because it's on North American soil, and we have so many Canadians here in the winter," said Foster, who rode Hamilton, a 12-year-old Holsteiner gelding owned by the Hamilton Group. "Hamilton was a little green when we got him as an eight-year-old, so it has been a process to get to know him."
Underhill sat the second round out to preserve her team's zero count, but noted their faith was high from the start. "I think we had great confidence, and we really wanted to give it a good shot for a win, especially with our new leader, Ian Millar," said Underhill, who rode in the irons of Nikka vd Bisschop, a 10-year-old Belgian-bred mare for the Rein Family.
Ballard and Gakhir, a 12-year-old Dutch Warmblood owned by Esperanza Imports and Ilan Ferder, echoed Foster's second-round clear to further her team's lead.
"This is my third year jumping in this class, but this was the first year I felt we had a great shot," Ballard said. "Gakhir has proved that he keeps getting better and better."
Millar was named leader of the Canadian Show Jumping Team in early February and spoke about his first stab at team selections.
"I work with a committee, and we looked at the declared athletes together. Within a couple of minutes, it was unanimous. It's a great group of riders; I've ridden with all of them, and I know how good they are," he said. "It was a great pleasure to be the chef d'équipe tonight."