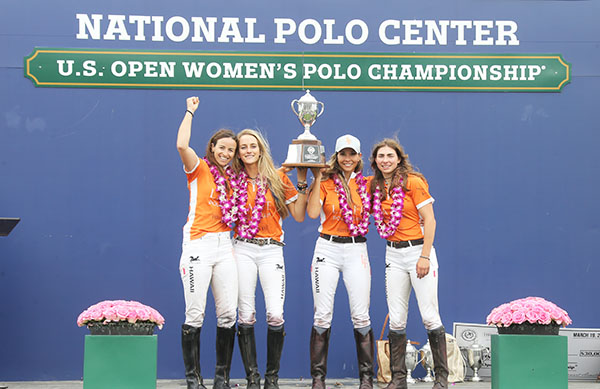 A week of high-caliber women's play hosted by the Port Mayaca Polo Club culminated with Le Fe winning the U.S. Open Women's Polo Championship, presented by Eastern Hay.
The final, which took place Sunday, March 19 at the National Polo Center-Wellington, marked a historic moment in the elite competition. For the first time, the final was held as the featured Sunday match on U.S. Polo Assn. Field One. Exciting play on the field saw competition newcomer La Fe (Winifred Branscum, Pamela Flanagan, Hope Arellano and Hazel Jackson) face returning contender Dundas (Ana de la Fuente, Erica Gandomcar-Sachs, Mia Cambiaso and Nina Clarkin) with $40,000 in prize money on the line.
Relying on nonstop offensive firepower, especially from 8-goal American Arellano, La Fe launched an impressive effort that ended in a dominant 12-6 victory.
At the outset of play, La Fe drew first blood, with quick field goals from Arellano and Jackson, outpacing a single score from Dundas' Cambiaso to create an early 2-1 advantage. Motivated by the deficit, Cambiaso worked to find the goal once from the field, then capitalized from the penalty line twice in the second. Only one response from Arellano shifted Dundas into the lead 4-3 moving into the third chukker.
Regrouping, La Fe's Arellano and Jackson hammered in six combined goals between the third and fourth chukkers. La Fe now firmly in the lead 9-4 heading into the fifth chukker, Dundas attempted to ignite a comeback effort late in the game, but two goals from Cambiaso were met by goals from Jackson, Arellano and Flanagan. As time expired, La Fe's unwavering efforts were rewarded with the commanding 12-6 win and the team's U.S. Open Women's Polo Championship title.
Along with the championship, La Fe earned $30,000 in prize money, while runner-up Dundas cashed in on $10,000, donated by title sponsor Eastern Hay with the support of the USPA Prize Money Matching Program. In the spirit of philanthropy and in partnership with USPA Global Licensing, both finalists also received a $2,500 check to donate to a polo charity of their choice. La Fe chose to support Replay Polo, while Dundas supported Work To Ride.
For 17-year-old Branscum, the trophy meant more than just her first win in the prestigious competition, but also marked a successful career debut on the high-goal Florida scene. "This is my first time on this level, and I've been using it to launch me into the world down here in Wellington," she said.
Hailing from the St. Louis Polo Club, Branscum is skilled in both arena and outdoor polo, fresh off of a win in the Central Regional Girls' Interscholastic Championship. Longtime acquaintances, Flanagan and Branscum have known each other for several years. In 2020, they were scheduled to compete in the U.S. Open Women's Polo Championship together alongside Nina Clarkin and Mia Cambiaso, but Clarkin announced her third pregnancy and the team subsequently needed to shift. Ecstatic to finally be able to compete with Branscum in the elite event, Flanagan said, "This is kind of serendipitous that she got to come back, be a part of the team and win here today."
A massive effort, Flanagan thanked Gauntlet of Polo competitor and La Fe manager Robi Bilbao's contributions. "The 17 different horse providers and the horses, all of that was organized by Robi Bilbao, the manager, so he's managing the La Fe men's team, the Dazos men's team and the La Fe ladies," she said.
Jackson was thankful that all of their hard work paid off. "Today meant a lot," she said. "To be honest, it has been a long road to get here, and it has been so much organization and so much work behind the scenes to get to here. So, to bring the win home today has just been phenomenal."
For her impressive six-goal performance, Arellano was named Most Valuable Player. Her second chukker spare and sixth chukker horse, 9-year-old Macumba, was named Best Playing Pony.
"Macumba is a mare that I purchased from Matias Magrini. He actually sent her to me to play her and sell her. I ended up falling in love with her," Arellano said. "At the moment I bought her, she wasn't one of my best horses, and now she's turned into one of my top five. Every time she goes onto the field, she gives me her whole heart and more."