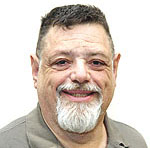 'I' ON CULTURE
In television and movies, the saying continues: everything old is new again. Since our brilliant culture warriors seem not to be able to create much that is new, interesting and fun, they are turning back to some of the successes of the past to entice us. It sometimes works. I watched the new Night Court TV show on NBC because it was on at a time little else interesting was and because I always liked Melissa Rauch from The Big Bang Theory, and she stars in this new version of a show from the 1980s.
Remembering the old Night Court was fun. It was slightly reality-based because there was a court doing the same things in New York City, even if reality was not all that funny. We had Judge Harry Stone (the late Harry Anderson), laid back and eternally optimistic; cranky, horny prosecutor Dan Fielding (John Larroquette); perky public defender Christine Sullivan (the late Markie Post) with a few other nuts and dolts. The real fun came from the zany folk who came up for trial. I actually saw an old YouTube video with Brent Spiner as a man arrested for "blowing up chickens." It was the 1980s, and by our current standards, many of the scantily dressed hookers, insane (but funny) homeless people and other creations are almost certainly forbidden. That may be why there are not nearly as many good comedies on television any more.
In the new update, Judge Abby Stone (Rauch) comes from upstate New York to take over the judge's job as a way of reconnecting with her late father. She is in for more than a bit of culture shock. Prosecutor Olivia (India de Beaufort) is not only a by-the-book kind of person, but goes out of her way to protect the police. Abby's aide Neil (Kapil Talwalker) seems knowledgeable but also naïve and a bit out of place, and the bailiff Gurgs (Lacretta) gets a lot of the laugh lines. But the public defender on the first show was so pathetic that Abby goes looking for Dan Fielding (still John Larroquette), her father's old prosecutor who now serves subpoenas instead of practicing law, to come back and defend those before her.
The relationship between Abby and Dan seems the heart of the show in its first episodes. No show could get away with Fielding's old antics anymore; his behavior in the first run of the show was outrageous, albeit funny. So now he's the wise old guy, still fast with a joke, but more grounded. This allows de Beaufort to handle more of the outrageous parts, and she does it well.
This is still a new show, but it is beginning to shape up decently. Rauch is a quite different character from Anderson. She is far less laid back, actually closer in some ways to the old show's public defender. But Rauch is an expert comedy actor. She knows how to use phrasing, pauses, strange looks, to not only get laughs but to get the audience to both like and root for her.
De Beaufort handles her job really well. While often seeming like the self-righteous foil for others, she has already shown she can let go and do great low comedy. Talwalker was a bit too quiet in the first episodes but has started to come into his own. He has a tricky part in comedy; a quiet person who should not always be the straight man. But he, after a couple of episodes, has become stronger. Lacretta fills in admirably as the wise guy, riffing on the role as bailiff previously held by Selma Diamond, Richard Moll and Marsha Whitfield.
But it is Larroquette who seems to dominate. He is a superb comic actor, as we have all seen in several great shows, and in his new, more mentoring role, he manages to get through to the others and get plenty of laughs.
The show is not yet as funny as the old one. We have had decades to learn to feel sorry for the homeless, even when their craziness is funny. We have become sensitive people, and almost by definition this court show becomes an accusatory work. People get in trouble and, since we're not going to get laughs out of serious crimes, we wind up dealing with those folk who just seem to not be able to stay out of trouble.
On the other hand, I actually laughed more than a few times during the course of each half hour show.
That does not happen often with what we are getting from our overpaid cultural geniuses. You should try it. You might just like it.