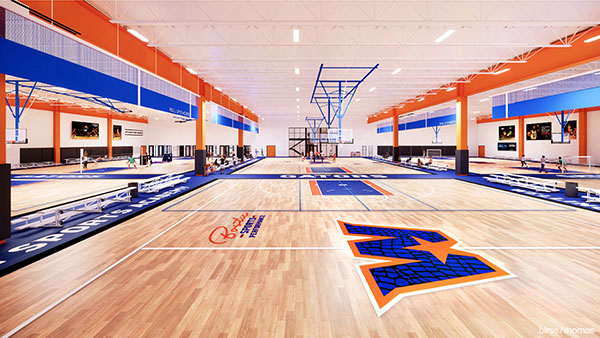 A $38 million project that will transform an underutilized Wellington park into a large sports training facility is speeding toward a July groundbreaking and a summer 2024 opening.
Football star Jon Bostic, a linebacker for the Washington Commanders, said this week that final plans for the facility, known as the Wellington Sports Academy, are nearing completion. He also released updated renderings and logos for the state-of-the-art facility, which includes a high-level performance gym to be called Bostic Sports Performance.
"This will be the biggest training facility in the State of Florida, and it will be one of the biggest in the country," Bostic said.
To be built on 17.2 acres of land currently known as Wellington Community Park, the site on South Shore Blvd. has been underutilized since being vacated by the Boys & Girls Club for a new facility in 2013.
Bostic's group will completely transform the dilapidated site into a main building with 102,873 square feet of space, with a satellite baseball and softball complex of 9,706 square feet. There will be seven full indoor basketball courts; 13 full indoor volleyball courts; a large multi-purpose field for football, soccer and lacrosse; a full turf baseball field; and a full turf softball field.
Bostic said that architectural plans started in January and are nearing completion.
"We are going to break ground right before training camp in July," he said. "Along the way, we will announce different groups associated with the facility. It will be up and running by Aug. 1, 2024."
Other amenities include a membership-based weight room; a performance gym; a cheerleading gym; a café serving breakfast, lunch and dinner; a recovery center with hot tubs, cold tubs, saunas and steam rooms; an e-sports gaming lounge; and offices for physical therapy, orthopedics and chiropractic.
Conversations between Bostic's group and the Village of Wellington have been ongoing since late 2021. He will be back before the Wellington Village Council for an update on Tuesday, March 14.
While Wellington will retain ownership of the land, it will be on long-term lease to Bostic's company. A village-backed bond issue of $33 million will fund the bulk of the project, with the rest coming from Bostic. The $33 million will be paid back by Bostic's Wellington Sports Academy over the life of the bond.
Deputy Village Manager Tanya Quickel confirmed that work on the project is ongoing and that Bostic and his group have been keeping the village up to date on the project as the design moves forward. They are awaiting Bostic's final contract for construction in order to move forward with the financing, which Quickel believes will happen sometime this summer.
"It is a lot closer, and it will be happening," she said, adding that the bond financing team is ready to go.
Bostic is very grateful for the support he has received from the village for this unique project.
"The bond helps out in a lot of ways," he said. "It makes smart business sense. We could've gone to a traditional bank, but teaming up with Wellington gets us the exact site we want. We are excited about this partnership going forward."
Bostic grew up in Wellington and is looking forward to giving back to his hometown. "This is a way that I can get involved with these kids for 365 days of the year," he said. "I could do a camp. It would be cool to bring in players for one day out of 365 days. But I want to have an effect on these kids' lives every day of the year."
A graduate of Palm Beach Central High School, Bostic took his impressive football skills from Wellington to the University of Florida before being drafted into the NFL in 2013. His father, John Bostic, played for the Detroit Lions in the 1980s.
"My father was able to give me the same blueprint his former college coach, and now one of my mentors, Larry Little, gave him," the younger Bostic said. "Now it's my chance to give it to the next generation."
While Bostic is famous on the football gridiron, the Wellington Sports Academy complex will offer programs in 12 different sports: baseball, softball, volleyball, basketball, lacrosse, football, soccer, wrestling, track, cheerleading, golf and e-sports gaming.
Top coaches from each of the sports will be coming to work at the facility, he noted. That focus on a wide array of sports is crucial to the success of the facility.
"We are starting with 12 different sports right off the bat," Bostic said. "It is not like one is going to matter more than the other."
It's all about helping young athletes succeed, and also finding out what other talents they may have. Not everyone is going to get a football scholarship, but there are many scholarships available in a wide array of lesser-known sports.
"Not every kid is going to be a Division I athlete. But these kids are so special in other ways," Bostic said. "They will be able to see other sports in action, and we can advise them other sports to consider. Being able to have that guidance to truly help those kids is really special."
Bostic believes that the Wellington Sports Academy's clients will be fairly evenly split between male and female athletes. Girls volleyball and softball, in particular, will be huge sports for the facility, he said.
While the entire facility is the Wellington Sports Academy, Bostic Sports Performance will power all of the academies and the club sports.
"The sports academy is the whole facility. The performance gym is going to be where they train," Bostic explained. "This is going to be more than your standard travel sports. We are helping the parents and the kids find it all in one place."
He said that being able to work with athletes on different aspects of the game is going to be huge. For example, a baseball training session might include time on the field, time in the cages and time in the weight room. "Being able to go between all three is going to benefit them," Bostic said. "We are going to teach them the basic mechanics from a young age."
This will get the foundation set for their high school years.
"Our goal is to get them the best chance to get a scholarship and be able to live their dream," Bostic said. "We have the blueprint, and I want to pass it down to these kids. This is how I was able to put myself on the map."