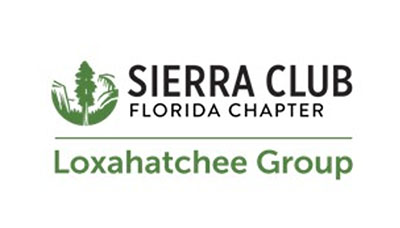 The Loxahatchee Group of the Sierra Club Florida Chapter will host a two-part general meeting on Saturday, March 18, at the Arthur R. Marshall Loxahatchee National Wildlife Refuge Environmental Pavilion, located at 10216 Lee Road in western Boynton Beach. Doors open at 10 a.m. with light refreshments, and the program will start at 11 a.m.
The program will include a public discussion on the Indian Trails Grove/Palm Beach County Agricultural Reserve land swap proposal by GL Homes. After a viewing of a video on the Agricultural Preserve from the Loxahatchee Group, there will be a discussion on how the proposal relates to local water issues.
Speakers will include Chris McVoy, a soil and wetland scientist devoting his career to supporting Everglades restoration and a Lake Worth Beach city commissioner, and Drew Martin, conservation chair of the Sierra Club Loxahatchee Group, who was elected countywide as a supervisor of the Palm Beach County Soil & Water Conservation District (2008-2016) and has served on numerous other boards.
After the land swap discussion, there will be a presentation of the annual Florida Chapter Sierra Club Awards. Loxahatchee Group recipients include: the Manatee Award to Rose Loeff, the Otter Award to Meryl Davids, the Indigo Award to Sandi Schwartz and the Pine Tree Award to Linda Smithe.
For more info., visit www.sierraclub.org/florida/loxahatchee.